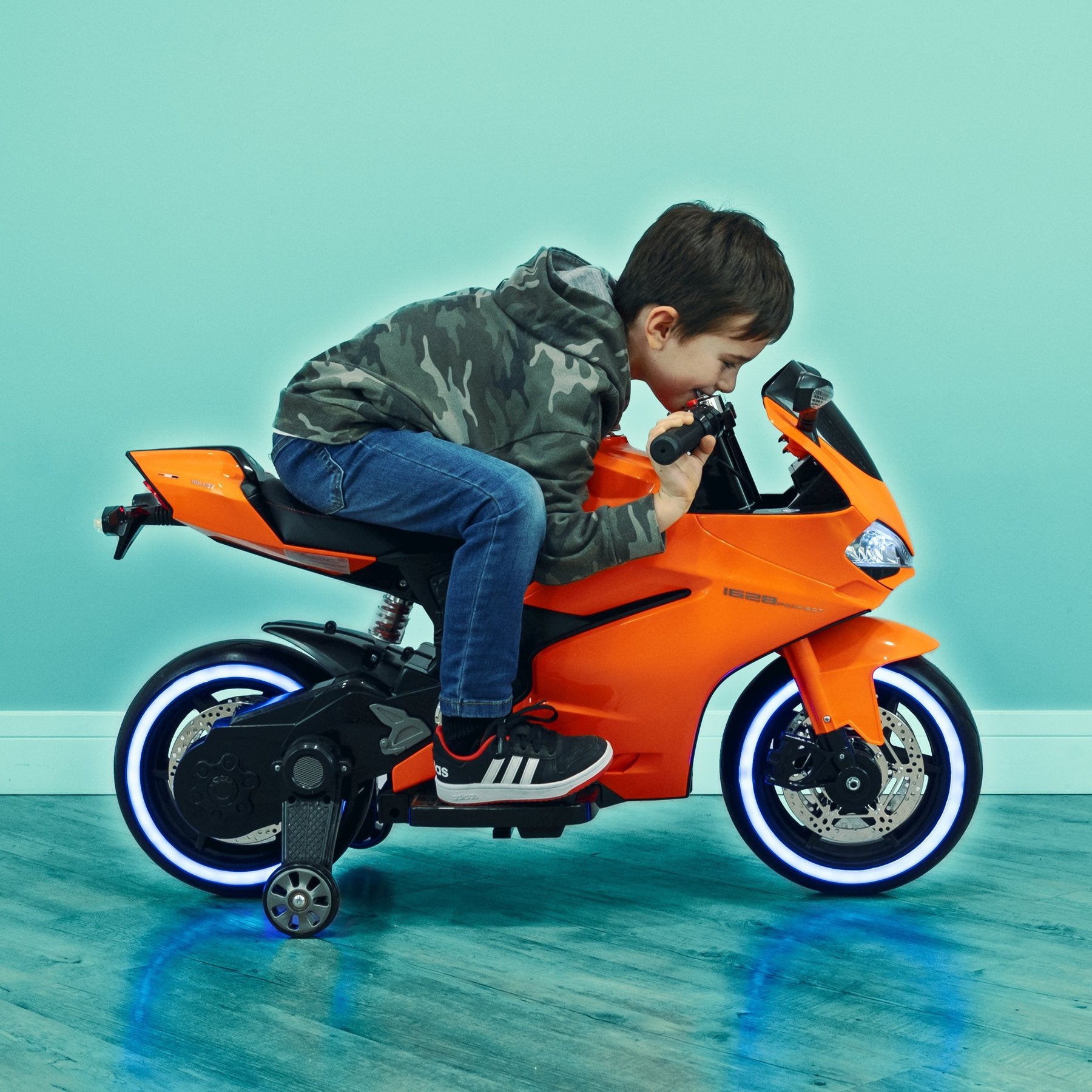 Our Top 5 Ride On Motorbikes For Kids
Even though we sell a ton of ride on cars, a lot of customers choose to buy a ride on trike or motorbike first.
Not only can these used in the exact same way (outdoor play) it is also the beginning of firing up your kid's imagination so they can look forward to some great adventures.
What parent doesn't want the kid outside enjoying themselves (especially when the sun is out)?
So what are you looking for as a parent?
You want a large selection, plenty of choice, great prices and for the toy to be really well built. Take a look at Our Top 5 Ride On Motorbikes and Motorcycles For Kids.
BMW S1000RR Ride On Motorbike - 12V Age 3+
This is our best selling ride on toy by far. Not only because of the incredible build quality, but RiiRoo have also managed to obtain the official license from BMW.
This allows us to use all of the stickers, badges, and more importantly "styling" so we have been able to manufacture one of the best, high spec ride on motorbikes you can buy at the moment.
With the real engine and horn sounds your kid will be transported into another world of fun and adventure. They also have the ability to shift gears between low and high speeds too!
Related: Are Motorcycles Automatic Or Manual?
Ducati Style 12V Ride On Motorbike with MP3 Age 3+
Another one of our popular bikes and one that makes it into our RiiRoo Top 5 Motorbikes for kids is the Ducati Style 12V Ride On Motorbike.
Now, even though this isn't the licensed version, you've got to admit that the similarities between this toy and the real thing are unbelievable. In fact, it's not until you see this bike in the flesh, do you appreciate what a good job they have done with it.
The bike has been built with the Moto GP version of the Ducati in mind so the styling and attention to detail are second to none.
What we like about the Ducati style is the fact that it comes with a built-in media centre. This means you have the ability to play lullabies and preinstalled songs.
In addition to that, if you download your kids favourite tunes on the USB stick, you can also blast them via the bike's media centre too!
If you are looking for a value for money ride on cross motorbike for your son or daughter then you've got to check out our very own RiiRoo MXross MotorCross Ride on Motorbike.
Not only does this have a working suspension to give your kid the smoothest ride. Like the BMW it also has real engine sounds and a kickstand (just like the real thing).
Slightly smaller than the BMW, your kid won't have any problems getting on or off this cool little ride.
Coming in a selection of different colours, you can choose the right colour that will suit their individual style and personality.
These ride on toys are very accessible for any child to pick up and play with little practice.
Kids love to copy grown-ups so riding their very own CROSS BIKE will be something they'll be very enthusiastic about anyway.
This smaller more portable ride on toy will be even more inviting and easy for them to pick up and move around themselves. Giving them that added a bit of independence.
If you're looking for one of the most stylish motorbikes we sell here at RiiRoo for an unbelievable price, then the Yamaha R6 Style 6V Ride on Motorbike has got to be on your list of possible presents.
The best thing about this bike is, it has been upgraded from the 2018 model and now has working front headlights, a powerful 6V motor, and realistic looking exhaust.
This one won't break the ban either. We have made sure the build quality is top notch whilst making the price as competitive as possible. You really won't be disappointed!
Here are just some of the specs:
Durable Plastic Body Design
Continuous Fun For About 40 Minutes
Drives forward left right and reverse.
Foot Pedal For Acceleration
Vespa Licensed PX150 6V Kids Electric Ride on Motorbike - Age 3+
If you are looking for a ride on motorbike that has both style and grace and is steeped in history, then you have simply got to check out our Vespa Licensed PX150 6V Kids Electric Ride on Motorbike.
With the added bonus of giving you two options: We have both the 6V Vespa and 12V Vespa models available to you with the main difference being one is more powerful than the other. Other than that, they are identical in every other way.
The fact that this little bike is licensed (just like BMW) means we have been able to use all of the original styling and badges on the Vespa.
Even down to the shape, style of lights and those cool looking retro mirrors. Those small details mean this ride on motorbike looks just like the real thing in every way.
You can take a look at our full range of ride on motorbikes.