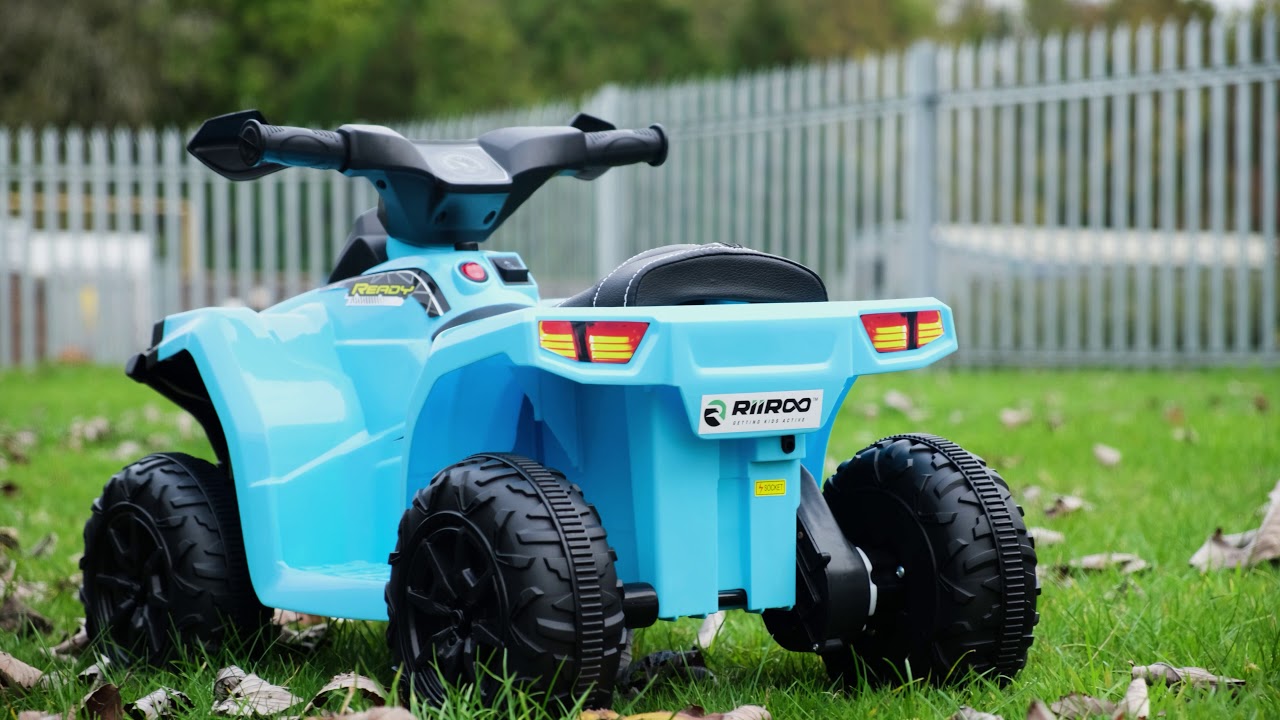 Top 5 Kids Electric Ride On Battery Electric Quads Sold By RiiRoo
Most of our customers know we sell a huge range of ride on cars, but, most didn't realise that we sell a wide variety of battery electric quad bikes.
For that reason, we thought it would be a great idea to showcase just some of the electric quad ride-ons we sell.
Also, if you were interested in viewing the entire range, you can view them here.
5. RiiRoo Kids 6V Ride On Quad Bike Police Motorbike
Our
RiiRoo Renegade Rider 6V Electric Quad Motorbike
 is the perfect present for your kid who wants the ultimate excitement and thrilling adventure.
It's super easy to operate and won't get stuck where other ride-on toys will which is a major bonus. Your kid can experience so much fun at an incredible price that won't break the bank
4. 12V ATV Quad Bike Viper 2020
The
RiiRoo 12V ATV 2020
is perfect for those kids looking for those small adventures and a bit of action. The great thing about this ATV is the fact that it has a powerful 12V battery unlike other 6V ones on the market.
3. 6V ATV Quad Bike 2020
Quads are the best of both worlds, and this
6V ATV Quad Bike 2020
is one of the best 6V quads at an unbelievable price! If you are looking to get them onto a quad for the first time and they are of an appropriate age to be in one then, you cannot go wrong with this one!
2. RiiRoo 24V Ride On Quad ATV Motorbike
Check out our newest range of
RiiRoo 24V Battery Electric Quad ATV Battery Powered Quad Motorbike
. This 2 wheel drive beast will provide your kid with amazing performance and the ultimate amount of fun guaranteed! Muddy, mucky off-roading fun is all that matters and with the cool 2WD feature and tyres that have the grip and tread pattern of the big boys'. They'll be able to conquer the parks and pavements with the super-tough ATV built for the greatest adventures.
1. VenomSV ATV Quad
Give your little driver a stylish ride with this cool
RiiRoo ATV electric quad bike ride-on toy
.
Designed just like the real vehicle, this ATV can go up to 5 km/h and is decked out with LED lights and a Bluetooth music player
This is the ideal birthday gift for your children, it is easy to ride push and go chunky foot pedal and instant stop, when released, makes it an ideal starting point for that first introduction to battery-powered ride-on toys!
With its unique style and looks - the build quality is absolutely fantastic and tough on this Quad. Not only does it have Eva tyres but also a very hard toughened plastic shell and metal axles for the wheels and steering.