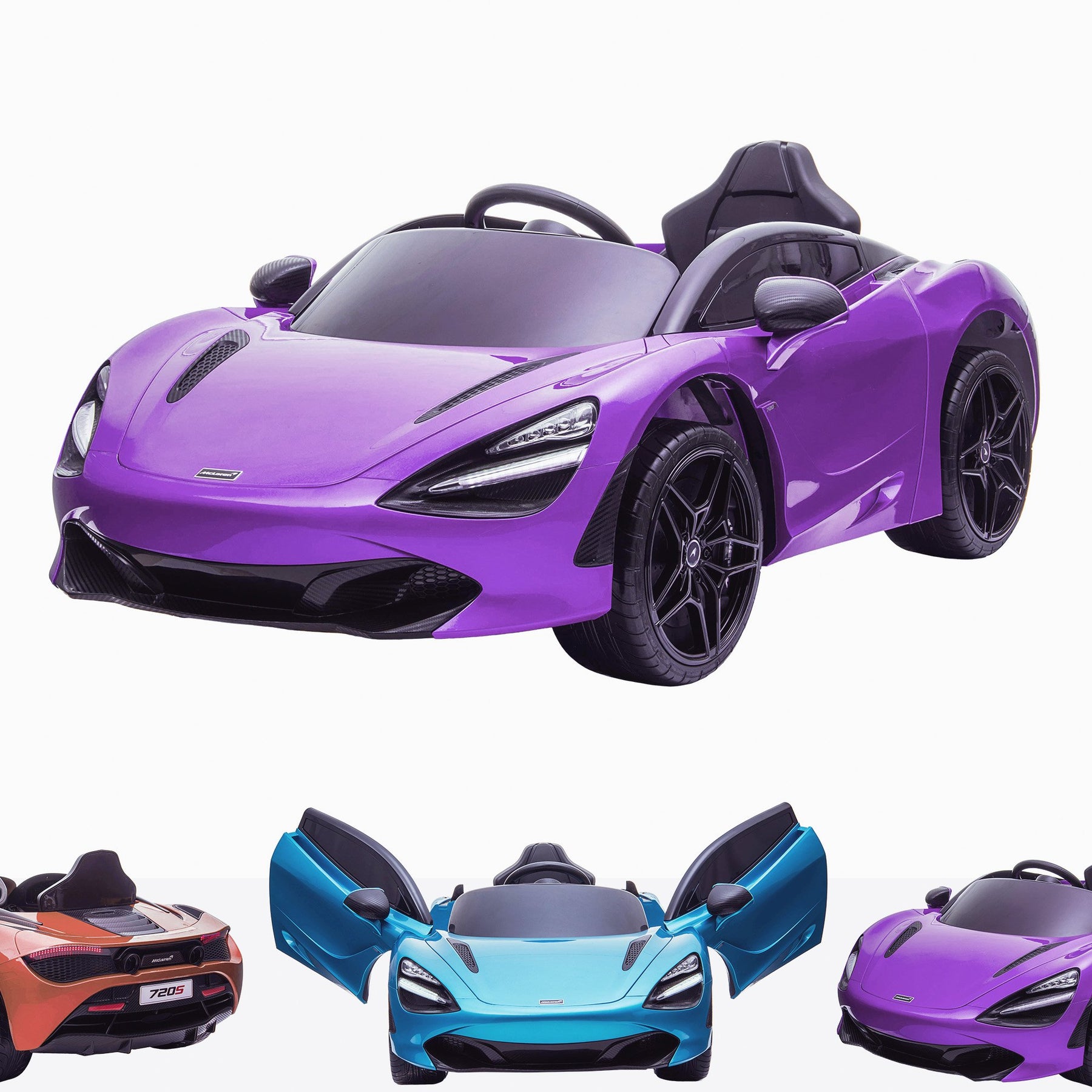 Here's The Top 10 RiiRoo Ride On Cars This June 2020
Even though we have had a lot of new stock arrive in our warehouse for the last few weeks. It still doesn't mean that our bestsellers have stopped selling. In fact, they are still our customer's favourites despite the new arrivals.
Please take a look at our top 10 ride on cars for June.
Audi TT RS Kids Ride On Car
The Audi TT RS 12V Battery Electric ride on car is one of the most popular cars that we sell at RiiRoo. Not just because of the attention to detail but the fact that it looks so lifelike. If it wasn't for the steering wheel and large seat it would look like the real thing ;)
Bentley EXP12 Kids Ride On Car
When only the smoothest ride will do, this fantastic replica Bentley EXP12 12V Battery Electric ride on car with its nippy 12v battery-powered engine and remote control will keep the coolest of kids entertained for hours.Just look at those Lambo style doors with their own integrated hydraulic arms! Plus of course, there are the seriously chic mock alloy wheels complete with authentic soft tyres for the ultimate realistic appeal.
Audi R8 Spyder SuperSport Kids Ride On Car
If that small person in your life is looking for the ultimate adventure, then our 12V Battery Electric Audi R8 Spyder Super Sports Car Kids Ride On Car might just be the ticket? In fact, it probably is. This is not only a really cool looking replica of the real thing. This bad boy is officially licensed by Audi which means all of the features, badges, and stickers are authentic. Please Note: The Pink version of this car does NOT have a leather seat.
Mercedes Benz SL65 AMG Kids Ride On Car
If you want your child to ride around in style and luxury, then the Mercedes Benz SL65 AMG Licensed Ride On Car 12V Battery Electric is for you. Did you know that this one of our best sellers? The most competitively priced car in its category. You're getting a whole lot of car for the money and is also available in multiple colours.
Mercedes Benz AMG GLE 63 S Kids Ride On Car
This Licensed Mercedes AMG GLE 63 S 12V battery-electric kids electric ride on car officially licensed by Mercedes and comes complete with Mercedes badges and detailing. This super stylish car comes complete with a handy parental remote control for additional safety. Parents can control the car with two speeds on remote control mode making perfect for those who cannot drive independently yet.
Mercedes G65 AMG Kids Ride On Car
The Mercedes G65 Kids Ride On Car is not for the faint-hearted. This 12 battery-electric remote control car has full leather seats, MP3 music, volume control, and front and rear suspension. Achingly cool and fully loaded with a black leather seat, front and rear suspension, gear shift and even working dashboard lights, your little one can now hit the road (well, pavement!) in true celebrity style.
Range Rover Evoque Style Kids Ride On Car
Our Range Rover Evoque Style 12V Battery Electric Motor Battery-Operated Ride On Car is a big hit with all our customers this year and probably the biggest thing to hit our store in a long time. Even though it isn't licensed, this is one of the best replicas on the market with the exact same smooth lines as the original.
24V RiiRoo MaxPow™ UTV-MX Ride On
If the small person in your life loves a great outdoor adventure, then bring it on with their very own RiiRoo MaxPow™ UTV-MX Ride-on Buggy. A kids' electric ride-on car like no other! Muddy, mucky off-roading fun is all that matters and with the powerful 24V battery, 2 x 200W motors, and tyres that have the grip and tread pattern of the big boys' UTVs, the wide 20" seat is perfect for two. Let them kickback in the deluxe seat, download their favourite songs on the FREE MP3 player, and enjoy the open trail.
Range Rover Velar Style
The most contemporary and revolutionary SUV is now in stock. The RiiRoo Range Rover Velar Style 2019 Model 12V Battery Electric oozes luxury and style with unique design features that add to its undoubted appeal. Even though it isn't licensed, this is one of the best replicas on the market with the exact same smooth lines as the original.
Bonus Top 3 New Ride On Car Arrivals
2020 BMW i8 - Licensed Kids Ride On Car
Finally, the 2020 BMW i8 is here at RiiRoo. This is a fully licensed model from BMW with all the badging and looks you'd expect from them. The fact that it is licensed means we have BMW's complete blessing to use their official badges and stickers so this replica looks even more authentic. Check out the full feature list below to see why this is the must-have ride on.
Audi Q8 S-Line - Licensed 12V Kids Ride On Car
Now that the Audi Q8 Full-Sized adult version is starting to hit the streets (albeit in small numbers) there is no reason why you can't get them their very own. The attention to detail in this model will leave actual Q8 owners speechless (especially those still waiting for theirs), the 2020 Kids Audi Q8 S-Line has all the features you come to expect from RiiRoo Ride Ons but with the addition of being one of the 1st to have this on the road!
2020 McLaren 720S - Licensed Kids Ride On Car
McLaren is a name that has been around for a while now but not many kids ride-on's out there, that is until today! Introducing the McLaren 720S Kids Electric Ride on Car. With its 12V powerful battery combined with dual motors at the rear, this little Ride on Car is worthy of the McLaren name! Check out the feature list below for more.
If you haven't read them already. Please check out our other resource articles: -
RiiRoo Lockdown Kids Activity Sheets
8 Great Educational Netflix Shows Your Kids Will Love
The 8 Best Selling Toys To Keep Your Kids Occupied At Home
A Few Cheeky Reasons To Home School Your Kids
Let's go RiiRoo fans!
Follow us on Facebook, Twitter or tag us on Instagram using #RiiRooSquad!
Items You May Have Missed