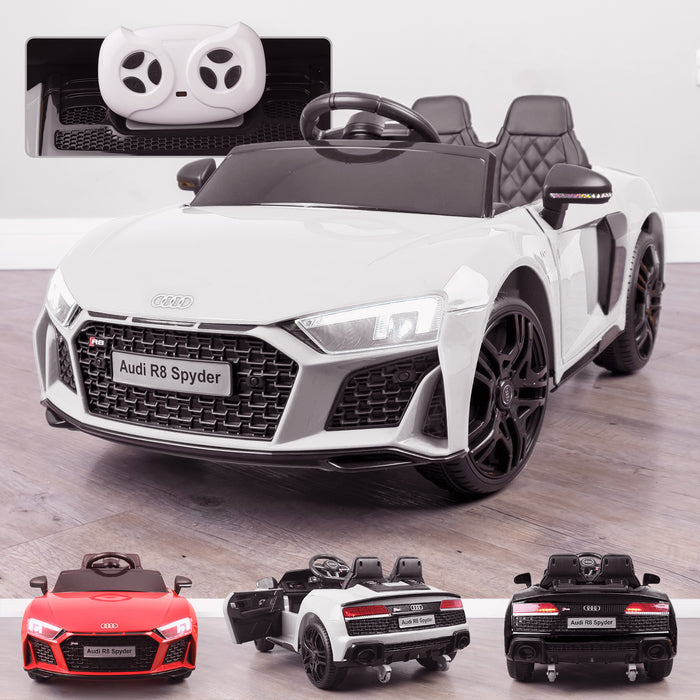 Audi R8 New Model 2020
Sold out
New Arrival
Original price
£139
-
Original price
£139
Availability:
Out of stock
Availability:
Out of stock
Availability:
Out of stock
Availability:
Out of stock
Availability:
Out of stock
The Audi R8 New Model 2020 kid's ride-on car will be a dream come true for the mini-me in your life!
With their first key in hand, kids are spoiled for choice between this and the Audi TT RS which is its older brother.
The TT RS has been our best seller for a number of years, but we're afraid the R8 is about to steal its thunder.
Kids love pretending they're speeding along, mastering turns, outsmarting other drivers, while the car makes all sorts of engine sounds as they drive.
They just need to buckle up and then zoom into the distance, but making sure that they're home in time for tea :)
The R8 is the perfect little gift if you're looking for something a little different than the other boring choices out there.
And, with the genuine official Audi badge, it's the ultimate validation of your purchase, as reliable and made with genuine care as their millions of other great cars Audi produce.

The Brand New Exterior Details The bodywork on this brand new kids electric Audi R8 is full of exciting changes. The front grill is a lot more lifelike, the rear features a small spoiler lip, the exhausts detail is a lot better, and you can spend quite a bit of time just enjoying the detail on this incredible looking ride on.
Do keep in mind two headrests does not mean this is a two seater but it does look incredible and adds to the realism. Of course just like the slightly older Kids Audi R8 this does feature a lap belt.

The Brand New Light System The lights have seen the most significant jump from the older Kids Audi R8 with an incredible LED light system which mimics the real-life Audi R8 beautifully. The front lights have a lot of detail in the shell and look wonderful without evening being turned on but the mood they create once they are turned on truly complete the experience, but the rear lights are absolute magic. Just like the real life Audi R8, this kids version features animated rear lights which give the sense of indicators by the lights moving. You'd need to see it to believe it. The best rear lights of any ride on so far hands down!

The Brand New Wheels Now for those that hate assembly, this brand new Kids Audi R8 Electric Ride on Car features clip-on wheels! It is the most tedious process of assembling these ride-on cars, and in this model, it takes mere seconds to put the wheels on rather than 15mins+

The In-Car Console Features The In-Car console in this electric ride on Audi R8 features all the bells and whistles you'd expect: USB Port, Built-In Music, TF/SD Card Reader, Start-Up Car Sounds, Battery Voltage Display and AUX-in Port. If you are looking to add Bluetooth connectivity to wirelessly stream songs to the beautiful built-in speakers then using the aux-in port and the Blue2Music Bluetooth adapter (purchased separately) you can get there in seconds.

Check the full feature list below.
📣 Standout Features 📣
Rear Suspension

Clip-On Wheel Design - Makes Assembly a Breeze!

Padded Leather Style Seat - Optional Upgrade

Animated Rear Lights!

Bluetooth Connectivity

Transport Handle

Separate Light Switch

Official Brand Stickers & Badges

Opening Doors

Battery Voltage Display

Functioning Lights

Functioning Horn

Start-Up Engine Sounds

Integrated MultiMedia Console

Safety Belt

2.4G Parental Remote Control - Optional Upgrade
📝 General Features
Brand: Audi
Official Brand Stickers & Badges: Yes
Seat Capacity: One Seater
Battery Specs: 1 x 12V4.5AH
Battery Voltage : 12V
RiiRoo Max Recommended Age: Up to 5 Years Old
Max User Height: 110cm
Max Load Capacity: 30KG
Tyre Type: Plastic with GrippMoz™ Strip
Clip-On Wheels: Yes
Suspension Type: Rear Wheel Suspension
Speed: 3-5 KM/h
Low/High Speed Mode: No
Traction: 2 Wheel Drive
Functioning Lights: Yes - All Around
Opening Doors: Yes
Opening Boot: No
Opening Bonnet: No
Spray Painted: No
Special Livery: No
Sway Function: No
Adjustable Steering: No
Key Start: No
Parental Remote Control: 2.4G - Optional Upgrade
Parental Push Handle: No
Transport Handle: Yes
Light-Up Dashboard: Yes
Functioning Emergency Lights: N/A
Functioning Emergency Siren: N/A
Compatible Surface Types: Short Grass | Carpet | Concrete
📻 Media Console Features
USB Port: Yes
Smart LCD Screen: No
Aux In: Yes
Built-In Radio: No
Integrated Music: Yes
Bluetooth Connectivity: No
Start-Up Engine Sounds: Yes
Working Horn: Yes
Steering Controls: Yes
🔋 Battery & Motors
Battery Specs: 1 x 12V4.5AH
Battery Voltage: 12V
Battery Voltage Display: Yes
Portable Battery Pack: No
Approx RunTime: 45 Minutes
Approx Charge Time: 8 - 10 Hours
Charger Plug Type: UK 3-Pin Plug
Motors: 2 x 20W
💺 Seat Capacity & Features
Seat Capacity: One Seater
Seat Material: Leather Style* - Optional Upgrade
Belt Type: Lap Belt
Adjustable Seat: No
📦 Dimensions & Weights
Product Dimensions: 105 x 60 x 41CM
Product Weight: 13KG
Box Dimensions: 108 x 56 x 29CM
Box Weight: 14.5KG
⚙️ Looking for Spare Parts?
If you are looking for spare parts for this product
Click here