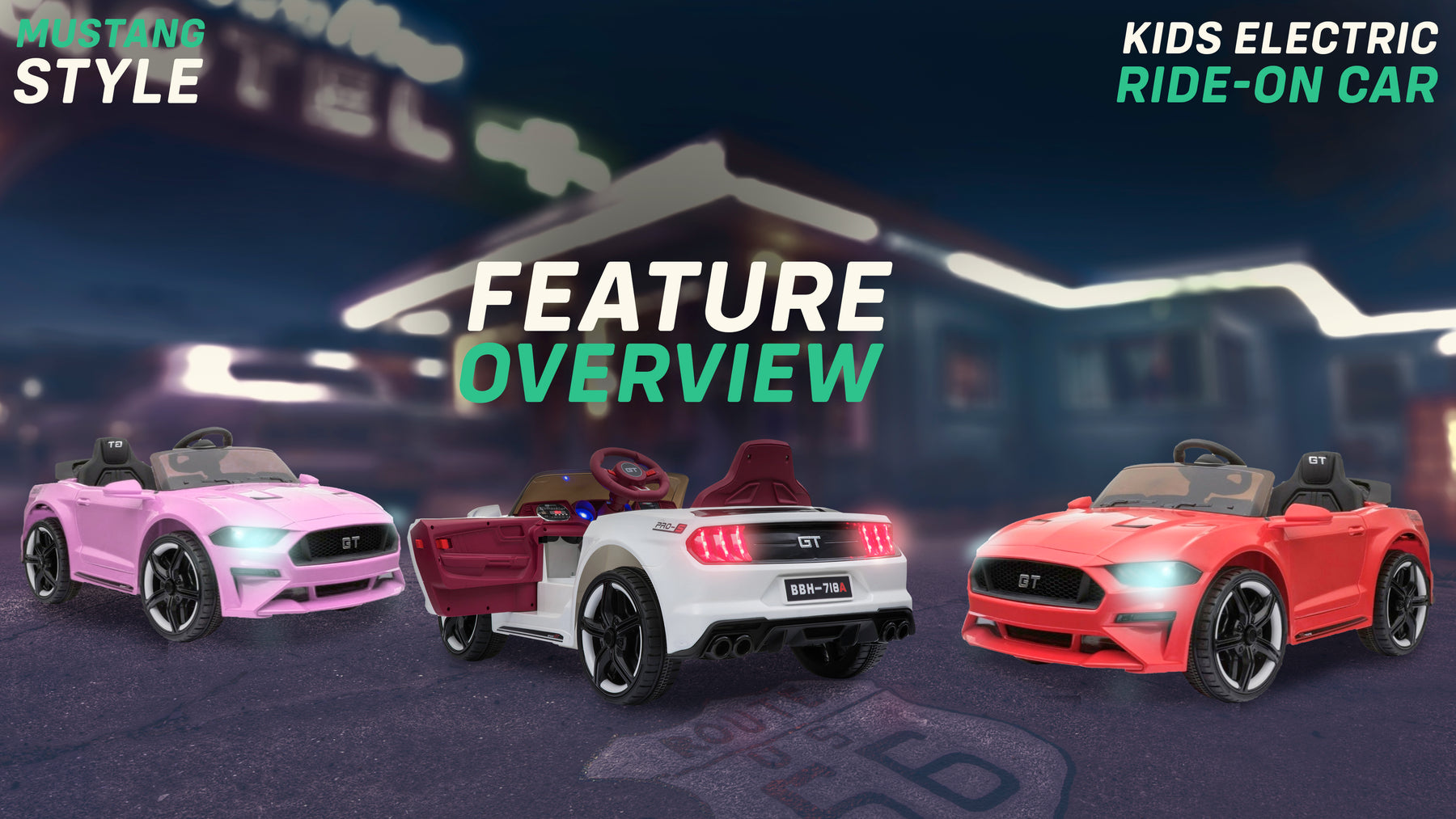 Ford Mustang Style 12V Electric Ride on Car For Kids - Overview Video
Ford Mustang Style 12V Electric Ride on Car
If you are looking for something a little bit different from the norm for your child, then check out our Mustang GT style ride on car.

One of the most iconic sports cars out there at the moment.

This car is designed to stop-you-in-your-tracks, has smoking-hot looks your child can make their own statement from the inside out with this car.
It's suitable for children aged between 3 and 5 years old, but I must stress, this can vary from child to child.
Outside
As we take a quick look around the outside, you'll notice the distinct GT badge and lines and curves that make this one fantastic looking ride on car.

Not only is it one of the best looking cars we sell here at RiiRoo, but it also has all the features and benefits the others do even though it is an unlicensed version.

Not only is it one of the best looking cars we sell here at RiiRoo, but it also has all the features and benefits the others do.
Each model comes with working front and backlights that look amazing at night.

A black see-through translucent windscreen and a full set of polygon alloy style wheels that have five spokes with quality plastic tyres.

If we take a closer look at the tyres, you'll see the attention to detail of the tyre tread. Again, even though this is a toy, the tread on the tyres have been designed for your child to really picture themselves driving the real thing. You'll also notice the fantastic attention to detail with the brake calipers too.
Inside
As we take a look inside you'll notice safety seat belts. These seat belts come fitted with every ride on car sold by RiiROO, so rest assured your child will be completely and totally safe.

It has a one-seat capacity which means it is designed to seat 1 child.

The dashboard lights up in blue and it's similar to the front and rear lights. It looks amazing in the dark.


The car has forward and reverse gears, foot accelerator with an auto brake on release function.
Now, let's talk about the media player.

Not only does it have a USB input that allows you to use your own USB stick with MP3 music, but you also have the ability to turn the volume up and down and skip track function too.

Don't worry if you don't have any music. Every Mustang GT style comes with a selection of tunes preinstalled so your child will have the ultimate amount of fun while they are driving.

Each Mustang GT comes with a 2 powered motors, rechargeable 12-volt battery and parental remote control that allows you to override the control of the car whenever you like, Functioning Boot Storage, Functioning Doors,

The Charge time is approximately 6-8 hours to a full charge and a drive time of approximately 1 hour on a full charge.

Just remember, this will vary depending on the type of use.

It comes with a 1-year warranty on the motor, a 3 pin charger.
How To Pair Your Ride On Car Parental Remote Control
Check Out Our Other Ride On Cars.
Our Ford Mustang Style Ride On Car also comes in different colours, like, white, pink and red.
See our latest reviews to see what other customers have said - Click here.