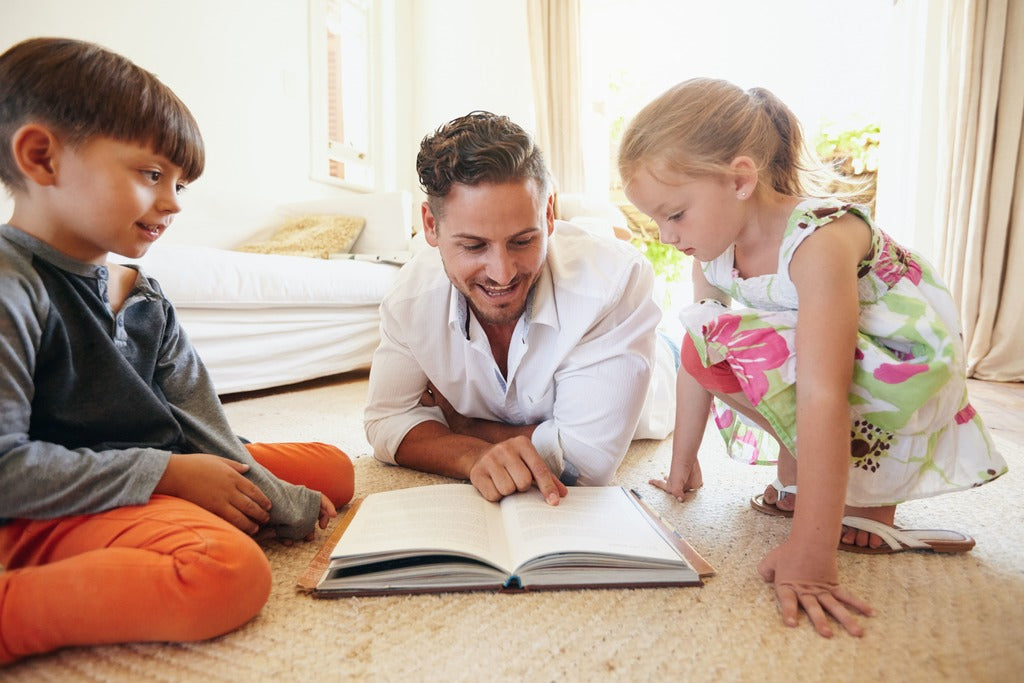 10 Ways to Motivate Reluctant Readers
I think most of us were encouraged to read from a very young age and, if we're lucky, have been able to carry this on into adulthood. 

You'll find it's much easier to encourage a reluctant reader if you make the whole experience fun rather than being a chore - even better is if you can read with them and encourage them to read on their own in their own quiet space.
It is quite astonishing to think that there are so many children who don't enjoy reading and get very little satisfaction out of it.  This is a shame because there are so many stories of excitement and adventure out there, just as if they were watching a movie - the only difference is;  it's all in their head/mind and provides the chance to really escape and immerse themselves into the story.
If you've found yourself with a reluctant reader, check out the 12 strategies below to encourage and foster a love of reading.
Read Aloud To Them
Being completely honest, it's a lot easier to read books that you love because it means that you will read it with a passion and expression that can really make a difference when trying to involve your child in the story.

By changing your voice to match the characters and mimic their expressions, your kids will see just how much fun you're having and this will likely encourage them to read on their own. It may seem silly and may make you feel a little uncomfortable but it is 100% worth it!
Let Them Choose Their Own Books 
In order to encourage your children to read by themselves, reading out loud is a great tool and can also be massively helped along by allowing your child/children to choose their own books.

There's absolutely nothing worse than reading a book that you both find boring and uninteresting. For this reason, you need to supply a wide variety of different books, different authors and across several genres - that way they can choose a book they find interesting  and will keep them occupied.
Provide Time For Reading
This one probably sounds like a bit of a no-brainer,  but if you pressure kids into reading at certain times, they may find it difficult to really getting to enjoy it. But, if you give them time to read whilst also giving them the space to do so, you'll be surprised just how much fun they will have in this relaxed state.

The room should be quiet with zero additional distractions ie, there can't be other children in the room playing games or carrying on with other activities.
Let Them Create A Cozy Reading Nook
No one wants to be sat at a desk for hours on end and so what you really need to do is make their reading space as comfortable as possible.

This can be done by providing pillows, bean bags and other items which means your kids can move around instead of staying in the same spot for a few hours.  In fact, this is a really good excuse to get them away from their desks and allow them to be comfortable while they read their books.
Have A Conversation With Them
An important part of their enjoyment is talking to you about the story they are reading - You'll learn a lot more about them and their interests if you sit and talk to them about the story they are reading than just leaving them to their own devices. 

You'll also be able to see if the books are at the right reading level and whether they should be advancing into something a bit more challenging. 

Oftentimes, children will read stories over and over again until they get comfortable and familiar with them - it's then your job to encourage them to read more advanced  stories and help them choose the right books. 
Read What They're Reading
This might seem a bit weird,  but it's always a good idea for you to read same books they are reading. Not because you intend to spy on them, but it will help when you have a conversation with them about  what they are reading.

You'll be amazed at how engrossed you can get by reading the same stories. It will also help you have a much closer relationship with your child.
Introduce Them To Audio Books
Now,  I bet you were surprised to see this one on the list? Even though we all want our children to read books, and by that I mean physical books -  it's also a good idea to encourage your children to listen to audiobooks as well.

You'll find that audiobooks are not only good for keeping their attention and learning but they also are great motivators. The more Audiobooks they listen to, the more encouragement they'll have to read physical books. 
Make It Social
Reading doesn't always have to be something they do on their own. Where possible, you should encourage them to read with friends or even join a book club - there should be a few book clubs in your town or city and if you can't find one, try your local library or even at their school. 

Book clubs are great because they allow your child to talk to other children/their peers about what they're reading rather than always talking to you about them. It also encourages them to read much more advanced books when they can see their peers reading them.
Let Them Read Other Stuff
Reading doesn't always have to involve fiction books; for example, if they're interested in science, space or nature, could they read those sort of books? There are also magazines and, as long as it's ok with you, informative websites.

As you probably know,  before you get them to do this, ensure the privacy settings are set  up properly so they don't come across anything inappropriate.
Get Them Hooked On A Series
I have left this one till last but it's probably the greatest hack of encouraging reluctant readers - you see, if you get them into Reading a series or a collection of stories, there's no better way to hook them and get them interested in a story that keeps going. 

For example, a series like the Harry Potter books - one of  the reason they have been so successful over the years is because it is a collection of stories linked around the main characters which allows the reader to feel connected and invested in the story and itching to find out much more.