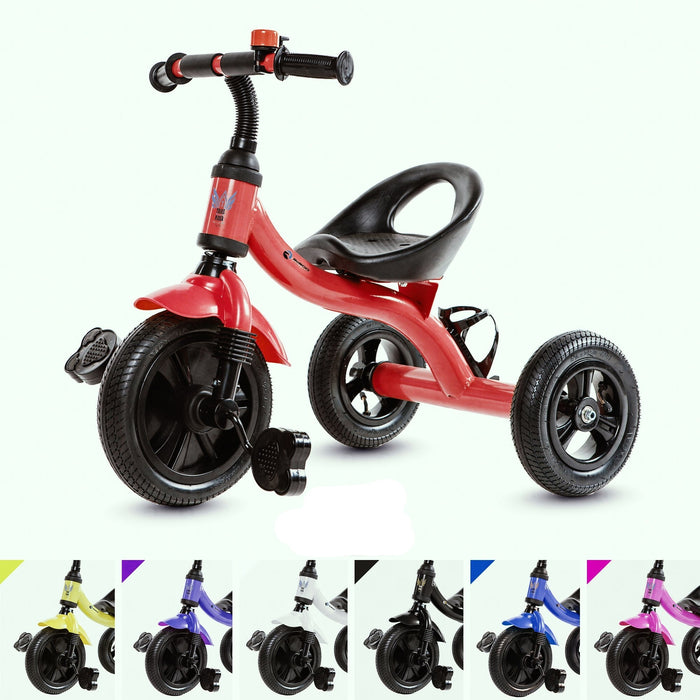 RiiRoo TrikeRider™ Tricycle
Availability:
Out of stock
Availability:
Out of stock
Availability:
Out of stock
Availability:
Out of stock
Availability:
Out of stock
Availability:
Out of stock
Availability:
Out of stock
Sold out
New Arrival
Original price
£45
-
Original price
£45
RiiRoo© TrikeRider™ Kids Tricycle
A little background about how this came to be.  When I was really (really) young(er), there was a kid on the street that had a really cool trike, it was bright blue and had a really cool bell (which he, of course, made sure to ring everytime he was riding past). and I never wanted anything more in my life but given that I was young(er) in the early 80's, these trikes were quite expensive and to cut a long story short, I never ended up owning that trike.
Fast forward to early this year, when I was contacted by one of our manufacturers to say that they had a product that fits our bill (Quality, Safety Tested, Affordable & Fun) and I saw this Trike, I immediately fell in love and all those memories came rushing back in.  It had the Pneumatic air tyres (don't see much of these anymore nowadays), a bucket seat and most importantly a bell (that goddamn bell, that still rings in my ears to this day) so, suffice it to say, I WAS SOLD!
Other than the nostalgia factor, this is what I really liked about it!
FEATURES
The Adjustable Bucket Style Seat
This means that I can give it to both my kids.  My 4-year-old can use it as well as my 1-year-old later down the road!
The front Fork Suspension
This makes a huge difference in helping prevent them from smashing their face against the handlebar everytime you hit a hole on the road. (It has happened to me and yes, I was not paying attention to the road in front!)
The Sponge Covered Handlebar
Even if the front fork suspension failed in dampening the uneven surface, the sponge on handlebar should help soften the blow.  
The Pneumatic Tyres
These make such an incredible difference to the ride quality.  Combined with the front suspension fork. you'd be hard-pressed to find anything in this price range that rides as well as this! If you find it let me know!
Includes a Bottle Holder
This saves me the hassle of chasing him with a bottle on hand! Love it!
Now on to the stuff none of us bothers to read
Specifications
Age Range: 24 months and above(Limit weight 25 kg/55lb)
Height Range: 80~100cm(According to this standard, according to growth of children)
Product dimensions: W: 47cm x H: 58cm x D: 73cm
Steel Frame: 60mm diameter front bar, 50mm for the rest
HandleBar Width: 38cm
If there are any questions you have, feel free to ask!  We are a team of passionate parents and love to help out in anyway we can.
Thanks for your time!
📣 Standout Features 📣
Integrated Bell

Rubber Wheels
📝 General Features
Brands: RiiRoo
Official Brand Stickers & Badges: Not Applicable
RiiRoo Max Recommended Age: Up to 5 Years Old
Max User Height: 110cm
Max Load Capacity: 25KG
Spray Painted: Yes
Special Livery: No
Footrest: Not Applicable
Foot Guard: No
Storage Compartment: Not Applicable
Storage Basket: Not Applicable
Bottle Holder: Not Applicable
Integrated Bell: Yes
Integrated Canopy: Not Applicable
Pedals: Standard
LockBrake: Not Applicable
Foldable: No
Folded Size: N/A
RainCover: Not Applicable
💺 Seat & Handlebar
Adjustable Handle Bar: No
HandleBar Height:
Suspension System: None
Seat Height:
Seat Dimensions:
Parental Push Handle: No
HandleBar Height:
Safety Harness: Not Applicable
Protective GuardRail: Not Applicable
Rotatable Seat: Not Applicable
Seat Cover: None
Seat Backrest: Not Applicable
Lock-able Handlebar: Not Applicable
Parental Handle Height: Not Applicable
⚙️ Wheel Specs & Features
Lit-Up LED Wheels: No
Wheel Size | Front:
Wheel Depth | Front:
Wheel Size | Rear:
Wheel Depth | Rear:
Wheel Material: Air Wheel
📦 Dimensions & Weights
Product Dimensions: 72 x 47 x 58CM
Product Weight: 5.8KG
Box Dimensions: 59 x 36 x 25CM
Box Weight: 6.5KG
Folded Size: N/A