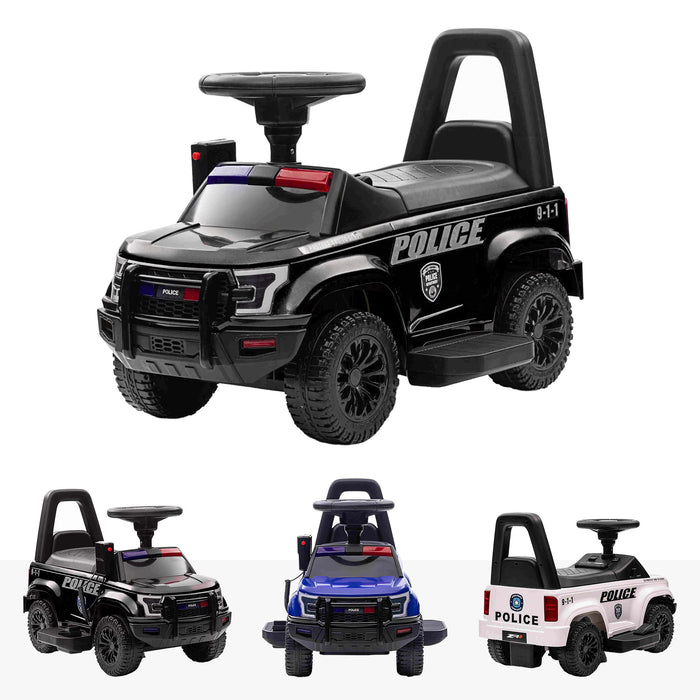 RiiRoo 6V Police Pursuit Push Along
Availability:
in stock, ready to be shipped
Availability:
in stock, ready to be shipped
Availability:
in stock, ready to be shipped
New Arrival
Original price
£55
-
Original price
£55
If they're not quite old enough for a full-sized kid's battery electric but still need to fight crime, this RiiRoo 6V Police Pursuit Push Along is just the right size. It features a working siren and flashing lights to let everyone know they mean business.
The attention to detail on this toy is impressive, right down to the Police decals on the sides. It's sure to be a hit with any budding law enforcement officer in your life 😉
📣 Standout Features 📣
Bluetooth Connectivity

Special Livery - Police Edition

Functioning Walkie Talkie

Functioning Siren Lights

Functioning Front Lights

Battery Voltage Display

Integrated MultiMedia Console

Start-Up Engine Sounds
📝 General Features
Brand: UnBranded
Official Brand Stickers & Badges: Not Applicable
Power Type: Dual: Push & Electric
RiiRoo Max Recommended Age: Up to 5 Years Old
Max User Height: 110cm
Max Load Capacity: 20KG
Tyre Type: Plastic with GrippMoz™ Strip
Suspension Type: None
Speed: 2-5 KM/h
Functioning Lights: Yes - Front Only
Spray Painted: No
Special Livery: Yes
Parental Remote Control: No
Parental Push Handle: No
Integrated Footrest: Yes
Removable Footrest: No
Integrated Guardrail: No
Removable Guardrail: Not Applicable
Integrated Canopy: No
Removable Canopy: Not Applicable
Integrated Storage Box: No
Light-Up Dashboard: No
Functioning Emergency Lights: Yes
Functioning Emergency Siren: Yes
Approx RunTime: 45 - 60 Minutes
Approx Charge Time: 6 - 8 Hours
Charger Plug Type: UK 3-Pin Plug
Battery Type: 1 x 6V4.5AH
Compatible Surface Types: Short Grass | Carpet
📻 Media Console Features
USB Port: Yes
Aux In: Yes
Built-In Radio: No
Integrated Music: Yes
Bluetooth Connectivity: Yes
Start-Up Engine Sounds: Yes
Working Horn: No
Steering Controls: No
💺 Seat Capacity & Features
Seat Material: Plastic
Integrated Seat Belt: No
📦 Dimensions & Weights
Product Dimensions: 62 x 29 x 43CM
Product Weight: 3.4KG
Box Dimensions: 31 x 63 x 31CM
Box Weight: 4.2KG
⚙️ Looking for Spare Parts?
If you are looking for spare parts for this product
Click here