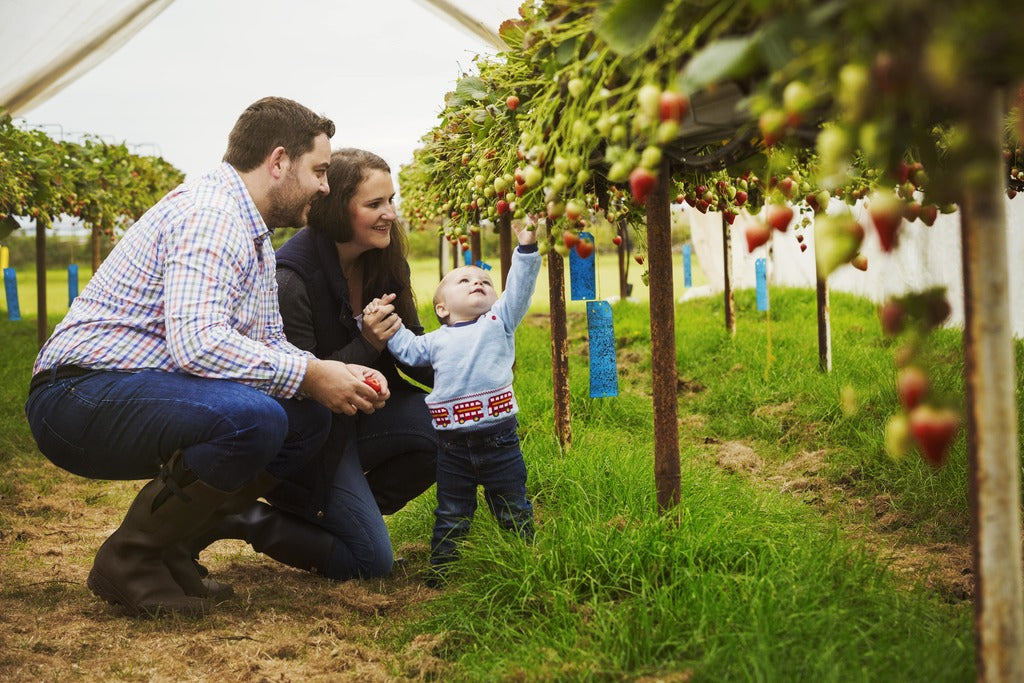 RiiRoo's Top Picks for Berry Picking With Your Kids
As we're right in the heart of summer, many of us have forgotten just what it's like to go out and really enjoy nature. We live in such a beautiful country, we sometimes forget how many lovely areas there are and all the great things we can do and explore in the countryside.
For that reason, we decided to write about something all of the family can do together while we still have nice weather.
Have you ever thought about going berry picking at all? No?
Well, there's no better way to get your family out into the countryside while having fun than berry picking. Not only is it something you can 
Here's our handy list of lovely farms waiting for you!
Parkside Farm Pick Your Own – Middlesex
Open 9am -4pm daily (except Mondays closed)
Entry by advanced booking only
If you want to take the family on an experience they'll never forget. Then you really need to check out Parkside Farm. They have quite a decent variety of different fruits and vegetables and are grown especially for Pick-Your-Own throughout the summer months. You'll love it!
One word of warning, though. You will need to book in advance where you will need to select a 15 minute entry time slot. 
There must also be at least 1 adult for every child under 12. Also, note that toilets and picnic areas will be closed so you would need to make provisions for that. This is purely for safety reasons.
Willows Fruit Farm – Skegness
Open 7 days a week 9am-6pm
There's something quite special about Skegness. It's one of the few places still around that offers a decent holiday or day out. 
The only downside is there are only a few ways to get to it. This means that it can get pretty busy on bank holidays. So, if that's your plan, expect to travel early to try and avoid the queues.
Willows Farm is probably the most well-known farm for Pick Your Own. They also have a wide variety of fruit and vegetables to choose from. 
More specifically, they grow berries such as strawberries, gooseberries, red currants, blackberries, and even loganberries. 
There's also a cool Farm shop on the premises where you can also purchase homemade cupcakes and Jam. They are also wheelchair friendly.
Willows Farm is great if you're after a wide range of fruit and vegetables! The farm grows strawberries, gooseberries, red currants, blackberries, and even loganberries. 
You can also pick up fresh produce from their farm shop, as well as honey, jams, and homemade cupcakes. Wheelchair friendly.
The Balloon Tree – York
Open 9am – 5pm every day
York is one of the most popular cities in the UK for families to visit. Not only for its history and culture but also for its gorgeous countryside. One of the Farms you'll find is The Balloon Tree Farm. It's a local family-run farm that caters specifically for Pick Your Own and also has a cafe and farm shop. They even have a really cool Pick Your Own trail map which your kids will love!! It shows them what's available on certain days and where they can find them.
Note: Like the other farms listed here, you will need to prebook using their online booking system (so don't just turn up).
For those they don't wish to enter, they have a unique drive-thru box scheme which allows you to follow strict safety procedures. Here are some added safety features:
Queuing 2 Meters apart before entry

Sanitising your hands upon entry

Limit the number of customers in the shop at any one time

Only trolley can be used in the farmshop to maintain distancing between customers and staff 

One person per family/group in the shop at any one time

Taped areas on the floor to show required distances

The use of cards rather than cash where possible - contactless limit now £45
Brocksbushes Fruit Farm – Northumberland
Open from 9.30am until 6pm daily
With over 35 acres of soft fruit, Brocksbushes Farm in Northumberland is open to the public until later September. So, there's no problem choosing a date to go. They have their very "Pick Your Own" site and also a farm shop on site. They are open for 9.30 to 6am, but note, social distancing will still be in place.
PICK YOUR OWN FRUIT CALENDAR
Strawberries; Mid-June – End of October
Raspberries; Early July – End of October
Gooseberries; Mid-June – End July
Blackcurrants; Early July – Mid August
Redcurrants; Early July – Mid August
Plums; Mid-August – End of September
Thurloxton Farm- Somerset
Open 10am – 6pm daily
For those of you based in the south coast, then you really need to check out Thurloxton Farm based in Devon. 
Even though it has a decent variety of vegetables, it is actually better for their berries. 
They range from strawberries, raspberries, loganberries, and redcurrants. If that's not enough. What about seeing the smallest sheep in the world? Well, Thurloxton has Ouessant sheep which are supposed to be the smallest in the world.
Craigie's Farm Shop – Edinburgh
Open 9am – 5pm every day
What we love about this farm is the fact that they don't just cater for the summer. They also cater for autumn too. In the summer you have the choice to pick your own fresh strawberries, raspberries, cherries, currants, blackcurrants, and gooseberries. 
In the autumn they specialise in growing pumpkins which are prime and ready for carving and eating over Hallowe'en. Even in early September to late October you can pick fresh apples from their orchard.
What is different with this farm is the fact that you don't have to book in advance like the others. You simply purchase a voucher ahead of your visit to gain entry to the field.
On arrival, you just simply show your entry voucher in exchange for a basket and a mapLINK and this will guide you to the best field depending on what you would like to pick. All you have to do is pick your own fruit, fill your basket then weigh and pay! It's super simple.
Ansty Pick Your Own and Farm Shop – Wiltshire
Open Monday 10:30am – 4pm, Tuesday – Saturday between 9.30am – 5.30pm, and Sunday 10am – 4pm.
Antsy Farm which is based in the rural countryside on the Dorset/Wiltshire border is a beautiful farm that overlooks the Wiltshire Downlands. They have a selection of ripe blackberries, blackcurrants and loganberries, strawberries, tayberries, and gooseberries.
Before you book, please read this page beforehand.