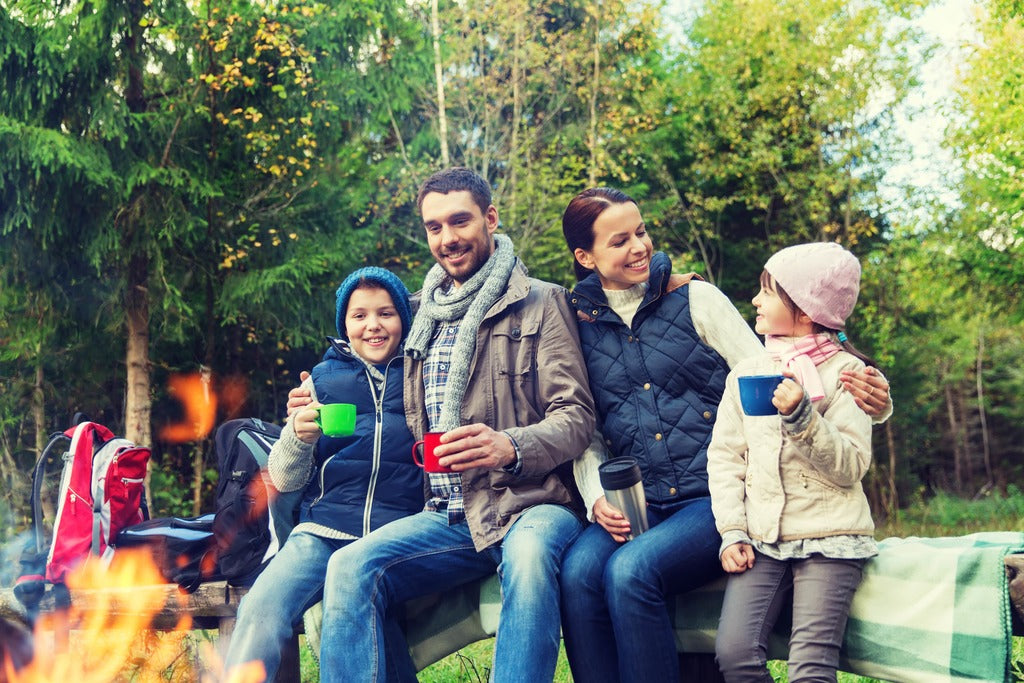 RiiRoo's Quick Guide To Camping With Your Kids (with free download)
In a recent article, we discussed different staycation locations for you and the kids. One of things we didn't touch on was camping. Camping can be a great alternative to staycations and is becoming more and more popular due to the multiple restrictions we're all going through at the moment.
The best thing is, kids absolutely love camping, want to get involved and can't wait to help pitch the tent and jump into their sleeping bags.
The one key thing to remember, is to try and stick to the usual routines, maybe a bedtime story, a portable CD player to help them sleep and try and not encourage them to stay up to late.
The Campsite
Ensure you do your research when it comes to choosing an appropriate campsite. As you are probably aware, different campsites have different amenities and it really is case of choosing the right campsite to match your family's needs. 
Depending on how hardcore you want to be, you may wany hot showers and flushing toilets etc. Some of you may want BBQ access, water sports and maybe even a swimming pool. So, take your time and choose a campsite that matches your needs.
The Tent
You might scratch your head and wonder why we included "Tent" as part of this guide, but there are a few things that you might want to check before either purchasing or hiring a tent. For example, there are a lot of tent's sold that aren't blacked. This means as soon as 5am rolls round, the sun will shine through waking everyone (including the kids). 
Now, unless you guys are early risers while on holiday, this probably isn't the best option. Therefore, you might want to opt for a tent that blacked out instead? It might also be a good idea to go for a tent that has a double skin. You know how much rain we get in this country? So, it would be a good idea to go for a tent that can protect you and your family from the elements.
We would also recommend going for a tent that is a few sizes larger than the norm. This is so the family has enough room to stretch out and fidget to their hearts delight :) So, go if you are thinking of going for a 2 person tent, choose a 4 person one instead. You'll thank us for it.
The Sleeping Bag
You may not think that a sleeping bag is important, but, if you think about it, you are going to be spending pretty much half of your time in the bag, so you want it to be as comfortable as possible. 
Whether you go for memory foam, inflatable, extra pillows or sleeping bag liners. Ensure you have the most comfortable experience, especially in the colder months where getting and keeping warm is really important.
The Tools
If you do happen to purchase an inflatable anything, remember to carry a puncture repair kit or some duct tape. Also, don't forget to carry a pump with some universal fittings so you can quickly and easily pump things up.
Don't forget to carry the main essentials such as a torch, pen knife or Swiss army knife, matches, toilet paper (take more than you need), washing up liquid, wet and dry wipes and a first aid kit. Hopefully, there won't be any accidents, but, you can never be too careful.
Depending on whether you're taking a lot of tech with you, it might be a good idea to carry a portable charger too!
The Food & Drink
There isn't really that much you can't cook over an open flame. Just ensure you have packed some tin foil to wrap your food in. Alternatively or additionally, you can be super prepared and take pre-made food like curries and soups that are frozen and can be left to defrost the day before you need them. 
This is especially helpful if you have fussy kids (or adults) that only want to eat specific things or have to have specific food because of allergies.
It's also a good idea to pack some snacks. Whether they are healthy or not, we'll leave that up to you. The fact that you guys are likely to be pretty active during the day means everyone needs to replenish their energy pretty quickly.
The Pests
Even though we don't live a tropical climate, you'd be surprised at just how many  mosquitoes, ants or bugs reside in the countryside. So, where possible, avoid taking anything that has a strong smell like perfume or scented soaps. 
It might also be a good idea to purchase anti-repellent that's safe for kids before you go. You won't always be able to pick up these sort of things when you're on the move.
TopTip: Sage is a really good herb ward of mosquitoes, so just throw a few over the campfire in the evening.
The Entertainment
To be fair, if you have booked to go on a camping holiday, you should have plenty of entertainment to keep everyone occupied. However, if your children are really small, you may want to pack a jigsaw puzzle and other toys to keep them occupied.
It might also be a good idea to pack some board games as well as a list of old school games so you can have some fun family entertainment in the evening instead of opting for a gaming device or watch videos on a phone or tablet.