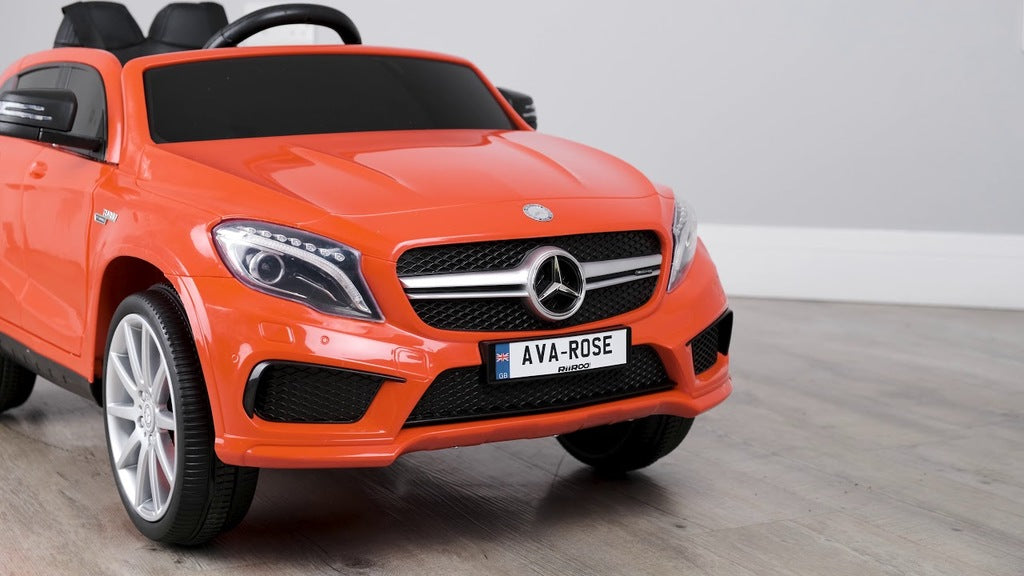 Mercedes GLA 45 12v Licenced Battery Electric Kids Ride On Car With Remote Control
We thought we would add another Merc to the family. Check out our latest licenced Mercedes GLA 45 AMG, 12 volt, Battery Electric Ride On Car. It's suitable for children of up to five years of age, or up to 110 centimetres in height.
Let's take a look at some of the standard features.

Functioning lights, start-up engine sounds, integrated multimedia console, 2.4 gigahertz parental remote control, opening doors, official brand stickers and badges, a functioning horn, and a safety belt.


Let's take a look at the Premium Features.

The all-wheel suspension maintains ride comfort on uneven surfaces. It has a comfortable padded leather-style seat, the transport handle allows you to easily move the Ride On from place to place.

The separate light switch allows the lights to be switched on or off at will. The 5-point safety harness gives you peace of mind that your child is completely safe.

The media player is USB, AUX, and SD compatible, meaning that your child can play their own tunes too.

If you would like to buy one of these great cars, then go to our website at riiroo.com where we offer free one-day delivery if you live in the UK, and if you order before 1:00 p.m. And don't forget, we also give our customers the option to purchase our key-shaped USB sticks, and our dust and rain covers.
Ride-On Car Battery Maintenance
One of the most common issues our customers face at RiiRoo is "The Car Won't Turn On" In most cases, the issue is very simple to resolve as we will demonstrate in this video.
Due to laws in the UK, unfortunately, we are not permitted to ship our ride-on toys with the battery terminals connected therefore, when you receive your car you must connect the battery yourself.
In the video above we are going to show you the most common reasons why your Mercedes GLA 45 may not work.
Assembly & Instructions
At RiiRoo, we do our best to provide as much help and guidance as possible before, during and after you have purchased from us.
For that reason, we decided to produce assembly videos for as many of our ride on cars as possible. That way, there's a helping hand for you when you need it.
How To Pair Your Ride On Car Parental Remote Control
Check Out Our Other Mercedes Toys and Ride On Cars.
Our Mercedes GLA 45 also comes in red, blue, painted mat grey and white.
See our latest reviews to see what other customers have said - Click Here.