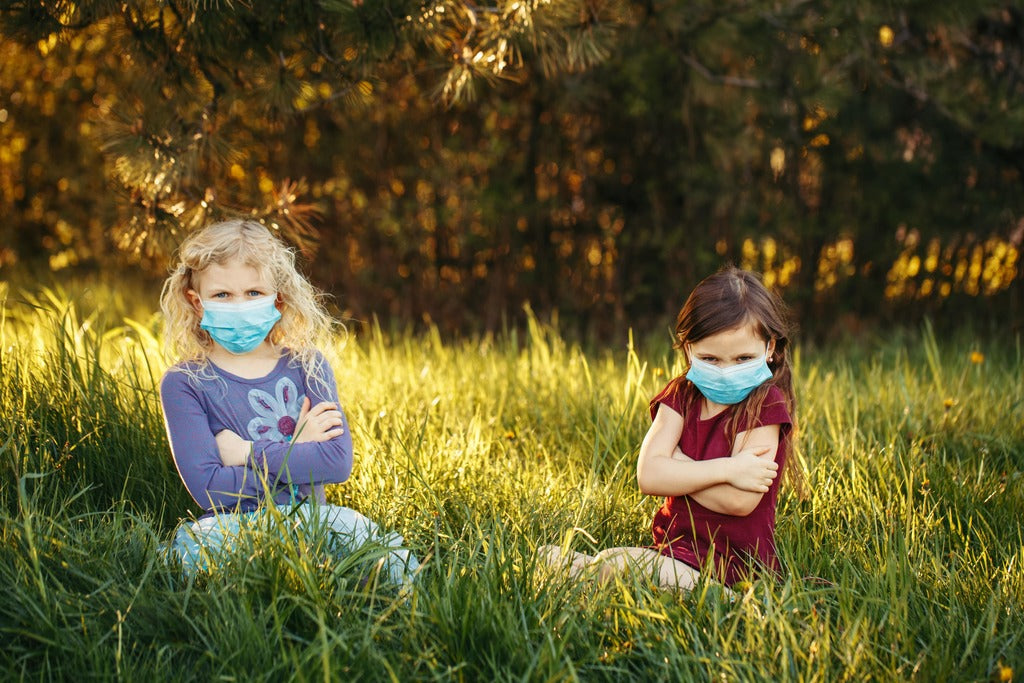 How To Keep Kids Busy While Social Distancing
This year has felt like all of the months have rolled into one. With the virus hitting us at the start of the year, we've barely been able to visit family and friends, go for meals out, take the kids to the cinema etc, etc. I'm sure you have a long list of your own "things we haven't been able to do".
One of the main fundamental challenges facing us all at the moment is social distancing. More specifically, finding things to keep our kids busy during long periods of time at home.
With any luck, you'll find the suggestions in this article helpful?
Boredom Sticks
This is a fun activity that you can involve your kids in. In essence, you'll brainstorm a few different activities with your kids and get them to write them down on popsicle sticks. You can either keep them in a jar or cup for easy access and then have your kid choose one when they next say "I'm bored".
This is only limited by your imagination, but, it could include games, puzzles, a kid's favourite "lego" and also "reading time". Depending on how you run your household, you could include small chores that need doing around the house. Some parents have even gone so far as to have a weekly chore list (I know my mother had one when we were younger). 
Even without the boredom sticks, here's a few chores (age appropriate) your kids do either daily or weekly.
Chores for children ages 2 to 3
Put toys away (this can either be after each play or on a set day)

Fill a pet's food dish (whether you have a cat, dog or even goldfish, they all need feeding at some point).

Wipe up spills - This is normally carried out by a parent automatically. However, this can always be part of a kids daily chore if you wish.

Dusting - This is a relatively easy task to get your kids today. It can either be their own room or another room in the house.
Chores for children ages 4 to 5
Any of the above chores, plus:
Making their bed in the morning

Empty bins

Help clear the table after a meal

Gardening - perhaps they want to have a go at pulling out some weeds or help you plant new flowers

Use hand-held vacuum to pick up crumbs

Water flowers - this could either be indoor or outdoor.

Unload utensils from dishwasher - This is a favourite that no one wants to do, but is a great chore for your kids
Chores for children ages 6 to 7
Any of the above chores, plus:
Sort through laundry

Sweep and mop floors

Set and clear table

Help make their packed lunch

Weed and rake leaves during Autumn

Keep bedroom tidy (this can either be daily or weekly)
Egg Drop Challenge
This may sound a bit strange, but for a cheap cost, you'll be surprised how long this will keep kids engaged. You basically get them to build a well insulated container to hold a hard boiled egg. They then drop the container from different heights to see if it will crack. In addition either get them to record the results or record it for them.
Get Grandparents Involved
If you want to build strong bonds between your kids and grandparents, then getting them involved (if you're able to see each other at the time of writing) could be really handy. It just adds another dimension to different ways to keep your kids busy.
It also allows you to have a break for a while. Having your kids in the house all of the time can sometimes bring its own frustration and stresses and you just need a break from it. The grandparents can sit down and chat with the kids, play games, puzzles etc.
Scavenger Hunts
You could get your kids to list some items they would like to look for in your local neighbourhood and then go off to try and find them. Just ensure you cross them off during the adventure, otherwise you may be wandering around for hours :)
Quarantine Journal 
Now, this will only apply to some families, since not all families are going through a full lockdown at the moment. 
This will also apply to older kids that can write. If you find that you are in full lockdown at the moment, then it might be a good idea to get your kid to write a private journal about their time during this crisis. 
They can document everything they have been up to as well any activities they have taken part in.
Teaching Kids To Cook
Most people don't think of cooking as an activity to get your kids involved in. However, even if you only get them to do really simple things, you'll be surprised at how much fun they can have.
You can get them to:
* Wash fruit and vegetables
* Depending on age, they can chop them up and prepare them
* Let them pick their own side dish to make
* Shape meatballs
* Stirring ingredients
* Measuring ingredients
* Set and clear the table
* Talk about food safety - like staying away from sharp objects, and dealing with raw meats etc
* Treat of the week - We all know kids love baking, so maybe you can get them involved in the baking process each week (probably a Friday or at the weekend) so you can bake together.
30 Day Lego Challenge
Now we mentioned Lego earlier in the article, but if you do a search online for "30 Day Lego Challenge" you'll find lots of different activities for them to be as creative as possible. To be honest, there are quite a lot to choose from, so this should keep them active for a while.
Gardening
Again, we briefly mentioned gardening earlier, but this is a great way to get kids active and also busy during an afternoon or weekend. Depending on how large your garden is, you could plan out and brainstorm a few ideas beforehand or with your kids, order your supplies and then get planting.