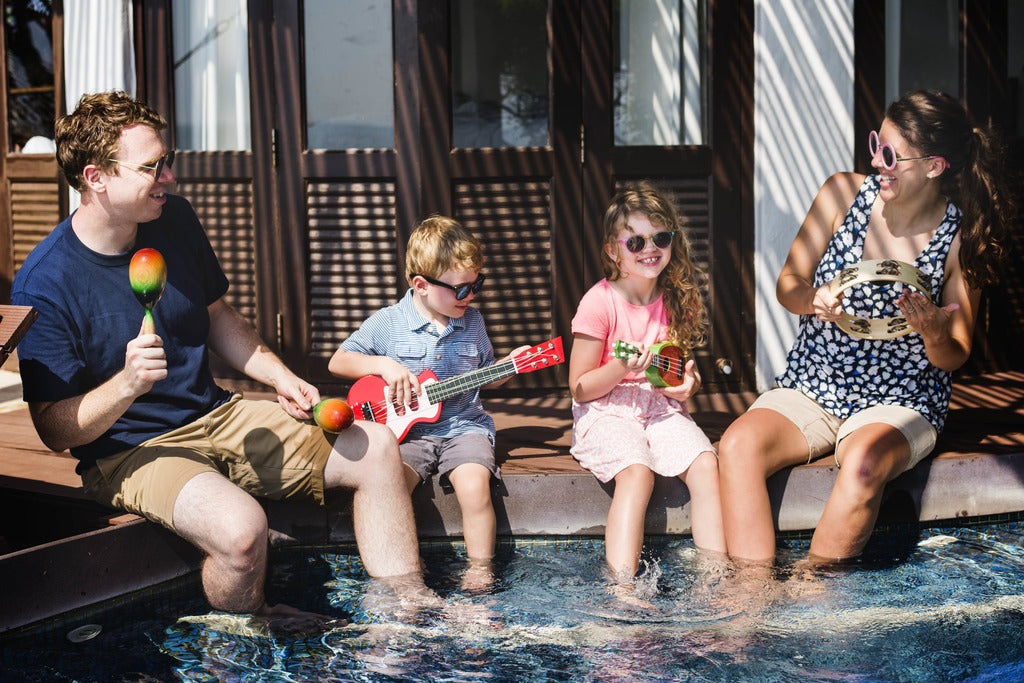 Here's Some Cool Music Activities for Kids
When kids have some form of exposure to music, it's highly beneficial to the overall development. Several studies have shown that when our kids grow up in a music rich environment and also partake in musical activities, this increases the memory, spatial intelligence, linguistic abilities and also concentration.
Better still, when carried out in some form of group setting like games and making music with their peers, it really helps build their self confidence while learning the ability to interact with other kids.
The social skills that they learn in these early years will build the foundation for them to grow up to be well-rounded adults.
So, in this article, we have laid out what we think are the most fun and engaging music activities for your kids and with any luck you'll take some positives from this.
Learn to play an instrument
When kids grow up playing with mini drums, rattles, xylophones and other musical toys, they start to develop a sense of what the many thousands of tones and sounds feel and sound like when they move their hands to play them. 
It has been known that kids as young as 3 years of age have the ability to learn and play instruments after just a few lessons. Though, it is recommended that kids should start between 3 and 6 years of age. At those ages it's more like fun and discovery rather than serious practice and complex chord structures.
Believe it or not, one of the most popular instruments that kids learn at that age is the ukulele. Not only is it compact, small and lightweight, but it only has 4 strings instead of 6 which is commonly found on most acoustic guitars. 
With two less strings, you wouldn't believe how much easier playing this instrument actually is. I think the fact that they can get to grips with it quite quickly and learn the basics in a short space of time, encourages them to play it more once they hear a tune come out. From there they generally learn basic chord structures and then onto playing actual songs.
Play music games
One of the best ways for kids to learn a new instrument is by playing musical games. Not only do they help introduce them to the joy of music, but they also introduce it from a fun perspective.
At this young age, kids have so much pent up energy, don't they? These musical games allow them to use some of this energy whilst at the same time practicing their social skills.
Let's take a look at just some of the games they could play:- 
Freeze Dance – This is a pretty simple game to get set up. All you need is a music player, radio or even video streaming website. The length of the game can be 10 minutes or more. And, all kids need to do is dance when they hear the music playing, then each player must freeze when the music stops and basically hold that position until the music starts playing again. If a player doesn't freeze immediately, they have to do 10 jumping jacks during the start of the next round and then rejoin the dance. Not only is this a really fun game to play, but it's also really good exercise for your kids.
Guess the Song - This is probably one of the oldest games in this list, but it's still a firm favourite with many. All you need to do is hum a nursery rhyme or song that you're pretty certain your kids will recognise and then let them guess what it is or even sing the lyrics. You have the option to make it sound silly be swapping out all the lyrics for a single word  – for example, singing "I'm a little teapot" but saying only the word "pancake." Then, let the kids take their turn!
Super Silly Singing - Now, this might be a bit of a challenge to some of you, but if this is done properly, can really bring out the creativity in both you and your kids. The idea is to make up a song on the spot about a random object found in your home. It really doesn't matter what it is, it could be a trainer, rubber duck, anything at all that you can think of. Then, just write the names of all of the different objects on little pieces of paper, place them in a bowl or box and then let your kids reach in and pull out any object and then make up a song about it. Where possible, try to encourage the clapping of hands or even the use of musical toys if you have any. Then, if you want to take things to the next level, create a stage where everyone can perform. This will be so much fun!
Spin The Mic - This game is very similar to spin the bottle. The main difference is, we're not going to use a bottle, we're going to use mic (preferably wireless). This can be customised in any way you like, you can play truth or dare, Karaoke or even turn it into a trivia game. You basically get the kids to sit in a circle and place the mic in the centre, get the kids to take it turn to spin, when it stops, whoever has the mic pointed at them has to do an activity or dare. Depending on how many kids are playing this game, you could make it a game of elimination where each player gets to move out of the circle after the activity and new players can join in to replace them.