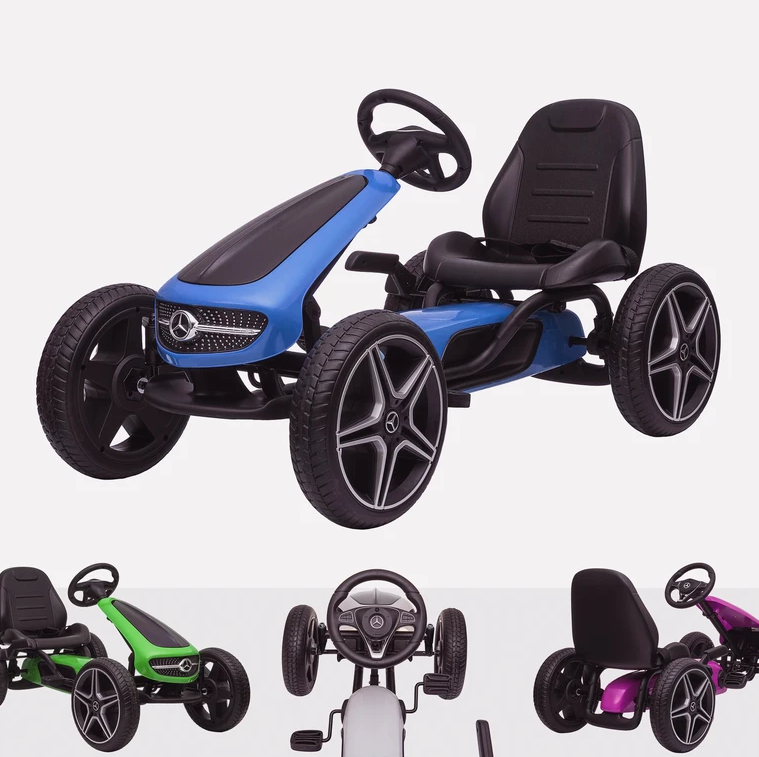 Here's Our 10 Best Selling New RiiRoo Ride On Toys This August 2020
Since we were in lockdown, it meant that a lot of our deliveries were delayed, unfortunately. However, with our latest batch of deliveries, we were able to bring some new toys as welcome additions to our range.
For that reason, I decided to show you which new toys are really popular with our customers at the moment.
2020 BMW i8 - Licensed
Finally, the 2020 BMW i8 is here at RiiRoo. This is a fully licensed model from BMW with all the badging and looks you'd expect from them. The fact that it is licensed means we have BMW's complete blessing to use their official badges and stickers so this replica looks even more authentic. Check out the full feature list below to see why this is the must-have ride on.
2020 Mercedes Go Kart - Licensed
Game over! Mercedes have licensed their name to Pedal Go Karts and if looks are anything to go by, the Kids Pedal Go Kart is an absolute stunner, probably the best-looking pedal go-kart in our entire range, at least in my humble subjective opinion! Check out the feature list below.
Audi Q8 S-Line - Licensed 12V
Now that the Audi Q8 Full-Sized adult version is starting to hit the streets (albeit in small numbers) there is no reason why you can't get them their very own. The attention to detail in this model will leave actual Q8 owners speechless (especially those still waiting for theirs), the 2020 Kids Audi Q8 S-Line has all the features you come to expect from RiiRoo Ride Ons but with the addition of being one of the 1st to have this on the road!
2020 Lamborghini Urus - Licensed
Finally, the Lamborghini Urus (we didn't name it!) Ride On Car is here. This amazing little ride on has all the features you are used to expect from RiiRoo ride-ons; from integrated media centres to true 12V power to excite even the biggest daredevils out there! 
RiiRoo MaxDriftz™ Electric Go Kart
If you're looking for something a little different from the norm, then you really need to check RiiRoo's latest MaxDriftz™ 12V Electric Drift/Go Kart. Not only does this look like the coolest ride on well sell (a little biased) but we know for a fact that your kids are gonna absolutely love whizzing around on this. Check out the full feature list below to see why this is the must-have ride on of 2020!
Ford Ranger Licensed Electric Go Kart
Ford is usually known for some decent cars out there but we pay attention when they decide to license their name to something other than the norm. This Electric Ford Ranger Go Kart is incredible to look at but even more incredible to drive around with its 12V battery combined with powerful motors to drive the wheels it is sure to excite whoever gets on it. If they had enough pedals but they love the feeling of riding around in a Go-Kart then the Ford Ranger Electric Go Kart will be the perfect thing for them.
RiiRoo TourX™ Touring Motorbike
As one of the newest members of our ride on motorbikes. The RiiRoo TourX™ Touring 12V Motorbike is the perfect gift for the kid that wants the coolest ride that won't break Mum & Dad's bank account. The great thing is, the specs for this are even better once you realise it's a 12V and not a 6V ride on. So, if you're looking for the perfect present, then look no further than one of RiiRoo's latest!
RiiRoo Unicorn Princes Electric Carriage - Pink
If you wanna see the broadest smile from your little one. Then, just wait until they're behind the reigns (hmm, steering wheel) of their very own RiiRoo Unicorn Princess Carriage Electric Ride on. This carriage will transport them into a world of make-believe where dreams really do come true. We'll think you'll agree that this is certainly a ride on toy different from the norm and one they will absolutely love!
2020 Mercedes G650 Maybach Mini
After the popularity of the big 2 Seater version of the G650 Maybach we have decided to bring a 1 Seater version, with all the same features as its bigger brother but in a smaller body and more importantly price point! Check out the feature list below.
RiiRoo 2020 JDX™ Tractor with Trailer
If you want them to help around in the garden, then, you need to get them the right ride-on for the job and what better Electric Ride on to get than the RiiRoo JDX™ Tractor with its decently sized trailer! They can use the trailer to help tidy up or put their toys in, the limit is their imagination. Check out the full feature list below.