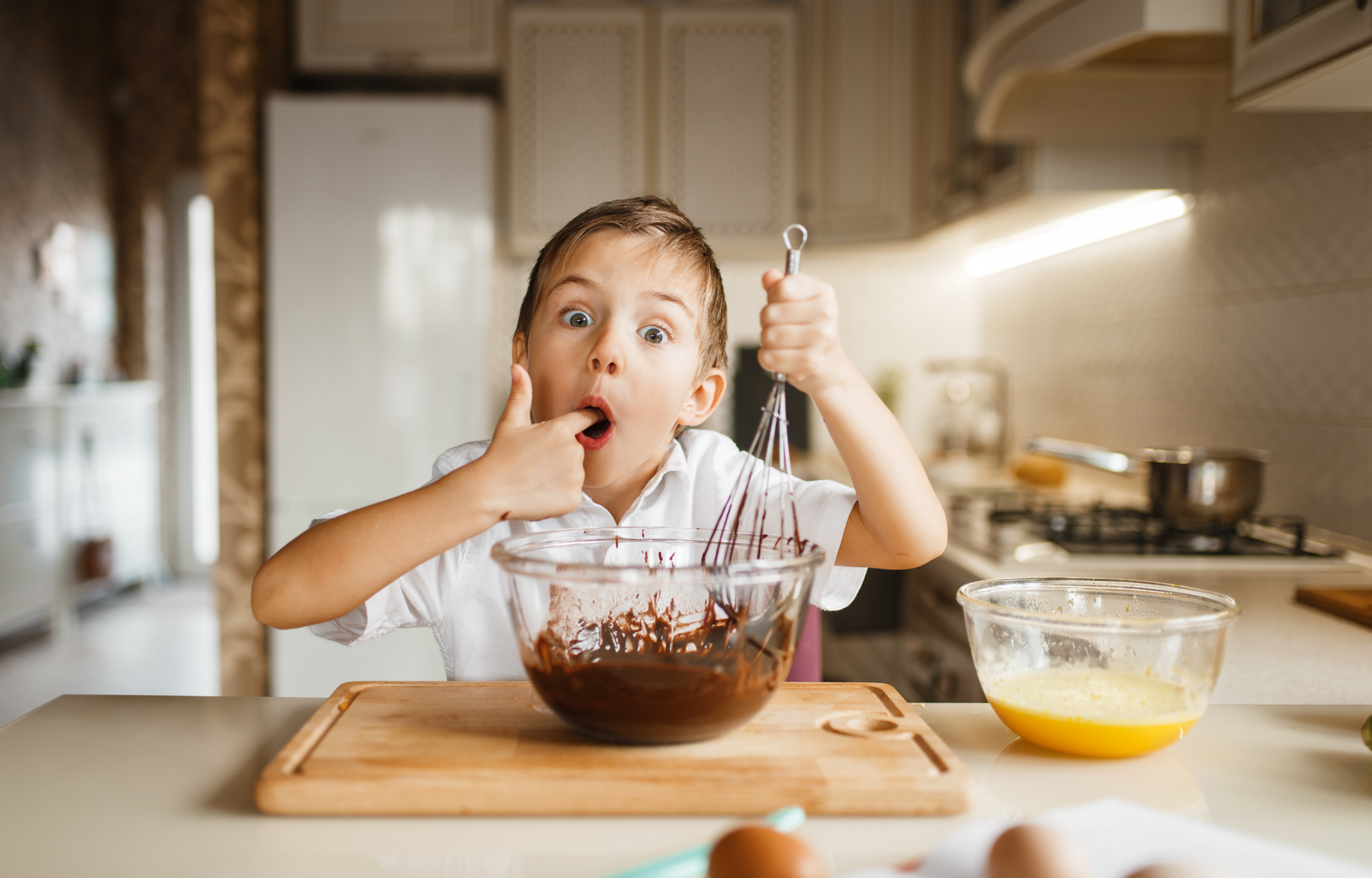 Here's A Few Ways To Get Your Kids Involved In Cooking
Most of the good memories we have as kids often involve doing things with our parents, whether we are observing Dad washing the car or Mum in the kitchen (things are different now and often the other way around).
As children, we used to get easy tasks like mashing potatoes or stirring something on the stove.
What we didn't realise was how those simple tasks helped us later on in life. It was surprising just how much we took in and didn't even realise it.
Not only does this help children learn how to cook, but it also helps with self-confidence, decision making, planning, creativity, and imagination. It also allows them to develop a deeper bond with the parent.
Depending on how healthy the food as you cook, it's an excellent time to teach children the difference of using one ingredient to the other and also why you are using specific ingredients. Not only is it a cooking lesson, but it's also an educational one too.
Have you had trouble making plans and sticking them in the past? If this is the case check out this article - 12 Common Resolutions Parents Make and Why They Don't Work.
Start with realistic expectations
You know how old your child is. The key is to set expectations for them depending on their age and level of cognitive development. 
There is no point in setting the bar too far. Otherwise, your child will get frustrated, bored, and, worse still, will lose interest quickly. 
If they are quite young, simple things like asking them to set the table, put the knives and forks out and also napkins (if you're posh). If we're realistic, there are limits to what a toddler can and can't do. 
Starting with simple tasks means they are less likely to make mistakes, and you won't end up being upset with them if they do make a mistake. 
Don't forget, this to be a fun learning process you can do together. The last thing you want it to be is anxiety-producing.
Plan a menu
We all know that food doesn't just magically appear on the table. A certain amount of planning needs to go into it before that can happen. However, do your children know this?
Getting your children involved in the planning process is a surefire way to help them appreciate the work that goes into producing a family meal well in advance. 
Taking it one step further, you can even sit down and show them how you work out what you need to buy based on the ingredients you need.
If you are trying to get your children involved in cooking, then asking "what they would like to eat next week" is a good start. If they ask for unhealthy meals, maybe you could offer some healthy alternatives instead. 
If they do ask for healthy meals, then congratulate and say "good choice," making them feel good about their decision.
If you have more than one child, then get them all involved in the process, so they all feel included in planning meals for the family. That way, when you dish up the following week, they can take ownership of the meal.
Take them shopping with you.
Now, you probably do this anyway, but taking children along when you are going shopping is the next stage after choosing a menu. 
If you have enough patience, now would be a good time to go through the menu with them and tell them they can only choose the items needed from the list. 
If they are old enough to be unsupervised, you could even split them up to go and fetch the items. Alternatively, wait at the end of the aisle while they go and bring the ingredients you need.
It's not practical to do this every week (not sure your nerves could stand it), but it's good for them to experience this now and again. 
While walking down the fruit and vegetable aisle, you can talk to your children about the different fruits, vegetables, and which ones you will need. 
Depending on whether you eat organic or not, you could even explain why you choose to buy them instead of the regular fruit and vegetables available.
Teaching safety in the kitchen
Now, this might not be the most exciting of topics to teach your children. However, this is an important one. There are probably more dangers in your kitchen than any other room in your house.
There are sharp knives, gas, electrical appliances that they will need to stay away from, etc. that you will need to explain. The potential dangers are vast.
If you have older children, then it's a good idea to teach them to put sharp knives away and to make sure handles aren't sticking out from the stove.
It's also an excellent way to introduce them to hygiene in the kitchen, i.e., washing their hands before they prepare a meal, what sort of food you can use on a chopping board, and not mixing meat with any other food on the board.
Here are Some Quick and Easy Foods Your Kids Can Make
By making these quick and easy foods, your kids can develop their cooking skills and have fun in the kitchen.
Nutrition lessons
With rates of childhood obesity on the rise, there has never been a more critical time in history to teach your kids about the importance of nutrition.
Helping them become aware of what they are eating and the power of healthy eating is key. Getting them started at such a young age is an excellent grounding for their future. It means they be well informed well into their teenagehood and also into adulthood.
You generally find that children are more likely to eat healthily if they have had a hand in the decision-making process of choosing, buying, and preparing food. 
Other lessons
Not only can children learn all different aspects of cooking. They also learn the difference between colours, shapes, and the different types of fruit and vegetables available (as discussed earlier). 
They also learn how to measure ingredients and weigh the correct quantity of what is needed.
Be creative and have fun
Time in the kitchen should be fun and not feel like a chore. You could really push the bar out and get matching aprons or even buy your child a mini kitchen so they can have a play in their make-believe world.
If your child makes a mistake, don't forget, this is all just for fun. Don't scold them. Just assure them that it is OK to make mistakes, and everyone in the world makes them (including you).
As you know, children have such wild imaginations and love being creative. Here's an idea. If they would like to mix pineapple with Spaghetti sauce (a strange combination), why not give it a try and make a small batch so they can sample their creation. Granted, they may not like it very much, but it encourages their creativity.
Children always like to think outside the box, and allowing them to do this gives their confidence a boost.