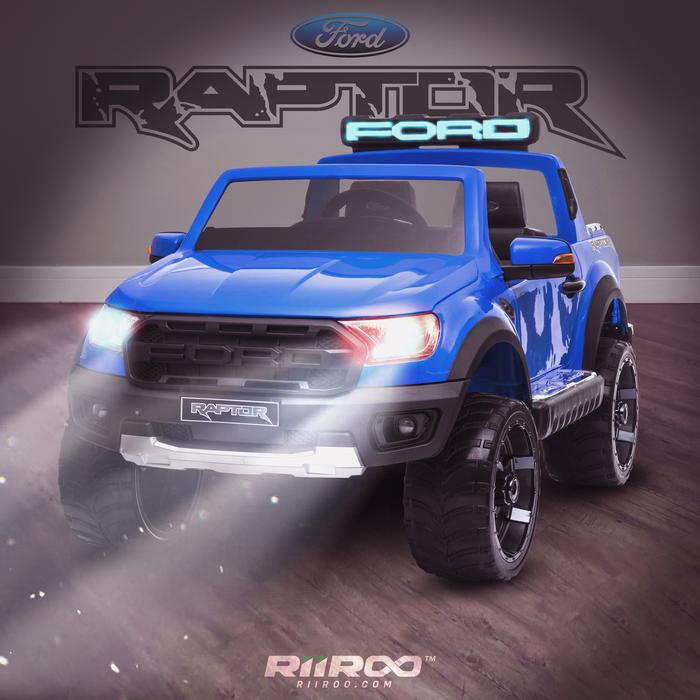 Ford Style Raptor Wildtrak F150 12v Battery Electric Truck For Kids With Parental Remote Control
Ford Style Raptor Wildtrak F150 Ride On Truck
If you're looking for a ride car that will turn heads and really stretch your kid's imagination, then our 12V Ford Ranger Wildtrak Style ride on truck, 2 wheel drive is just the ticket.
This isn't your typical ride on that simply blends into the crowd, this Ford Ranger is built to stand out and has been purpose-built to get the job done.
Just like the real thing, your kid can imagine picking up their workmates as they look forward to an honest day's work as they cruise around in style. It's suitable for children aged between three and eight years old, but I must stress, this can vary from child to child.

Although this is an unlicensed model, it still packs many of the features that a licensed model would have, without the official badging and emblems. The car has working front and backlights that look absolutely amazing in the dark.

It has a realistic style rear roll bar that really sets it off. You'll notice the detail of the twin exhausts on this model has been made to look exactly like the real thing. It has a black, translucent windscreen, and a full set of realistic style alloy wheels.

If we take a closer look at the tires, you'll notice the aggressive style, off-road tires.

The tread on the tires has been designed for your child to really picture themselves driving the real thing. If you push down on the four corners of the car, you will notice that the car has independent suspension.

This detail gives your child a smoother and more comfortable ride. The majority of cars we sell here at RiiRoo have doors that open and close, this model is no different.

The latch inside the car allows the doors to be locked shut. As we take a look inside, you'll notice safety seat belts.

These seat belts come fitted with every ride-on car sold by RiiRoo. So rest assured, your child will be completely and totally safe. The car has a one-seat capacity, meaning it is designed for one child.

The dashboard lights up and, as the front and rear lights look stunning in the dark. The car has forward and reverse gears. It also has an auto-brake foot pedal accelerator, which gradually stops the car upon release.

As we turn on the car, you will hear the realistic engine start-up sounds, so your child can really picture themselves driving the real thing.

Not only does it have a USB input that allows you to use your own USB stick with MP3 music, but you also have the ability to turn the volume up and down and skip track functions too.

Don't worry if you don't have any music, every ride-on car comes with a selection of tunes pre-installed so your child can bob along whilst they are driving. This model also has a dedicated media player control on the steering wheel.

This means that your child has full control at their fingertips. If you purchase one of our RiiRoo eight gigabyte USB sticks, they are already pre-formatted, so you can download your own tunes. If you feel like you want to take control, you can.

Most of the cars we sell here at RiiRoo, come with parental remote control, meaning that you are able to override the control of the car at any time. It comes with a one year warranty on the motors and a three-pin charger.
Ride-On Car Battery Maintenance
One of the most common issues our customers face at RiiRoo is "The Car Won't Turn On" In most cases, the issue is very simple to resolve as we will demonstrate in this video.
Due to laws in the UK, unfortunately, we are not permitted to ship our ride-on toys with the battery terminals connected therefore, when you receive your car you must connect the battery yourself. In the video above we are going to show you the most common reasons why your Ford Style Raptor Wildtrak F150 may not work.
Assembly & Instructions
At RiiRoo, we do our best to provide as much help and guidance as possible before, during and after you have purchased from us.
For that reason, we decided to produce assembly videos for as many of our ride on cars as possible. That way, there's a helping hand for you when you need it.
If you would like to buy one of these great cars, then go to our website at riiroo.com where we offer a free one-day delivery, if you live in the UK, and if you order before 1:00 p.m. And don't forget we also give our customers the option to purchase our
RiiRoo key-shaped USB sticks
, and our
dust and rain covers
.
How To Pair Your Ride On Car Parental Remote Control
Check Out Our Other Ride On Cars.
Our Ford Style Raptor Wildtrak F150 Ride On Truck also comes in different colours like, white, red, black, police edition, painted blue.
See our latest reviews to see what other customers have said - Click Here.
Use the JavaScript minifier to compress the code before you publish a website.