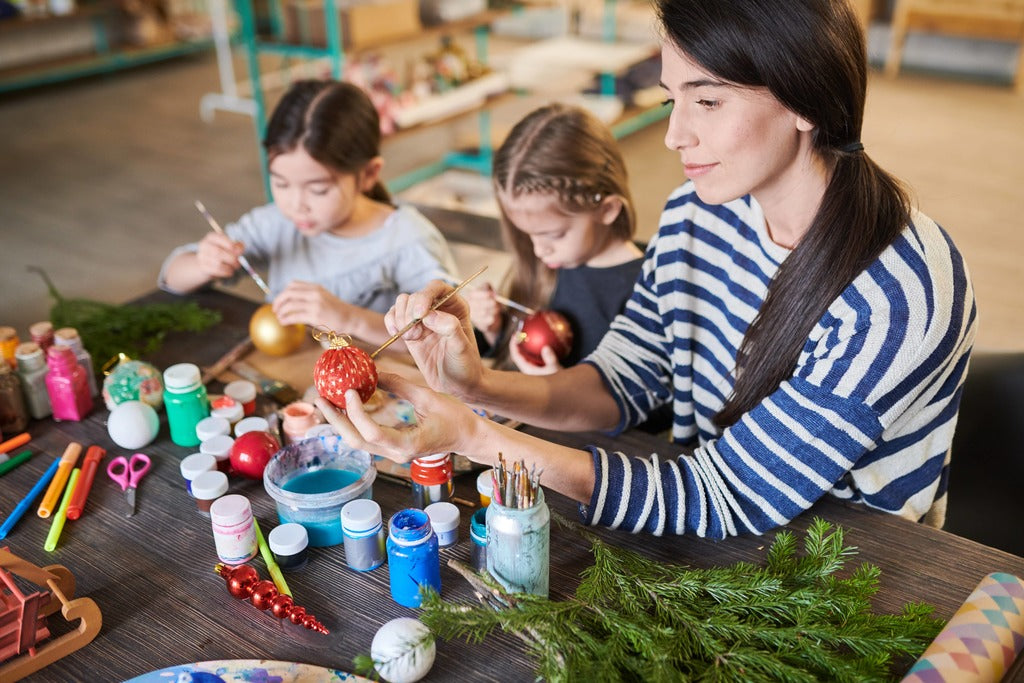 8 Easy Ways to Make Christmas Magical for Kids
Most of us have some really great memories of our childhood at Christmas. So why not create some new ones for your kids? I know that's probably what you planned on doing anyway? But, this article will hopefully provide you with some really cool ideas of how to make this particular Christmas special and even magical for your kids.
Let's face it. It has been a pretty depressive year so far, hasn't it? So, let's think of some ways to bring the cheer back and make this Christmas truly magical for our kids :)
Create a book advent calendar
This is probably a little late now. However, this could be a good one for next year. An advent calendar is a really great way of managing the build up to Christmas. 
You could try an alternative to receiving sweets, though. You could also try giving them a small gift of 24 picture books. 
That way, each day they could look at a new book at bedtime. The trick is, to wrap it up like a present and get them to choose from the collection :) You don't even need to go out and purchase new books. You could always just wrap old books that you already have.
"Grow" Candy Canes
This is one of the coolest ideas in this list and your kids will absolutely love it! You can get them to grow their very own candy canes during the holidays. This is going to need some imagination and a little help from Mum & Dad.
So here's the deal. Each night you help your kids bury small red and white sweets (think M&Ms or Tic Tacs) in a bowl of sprinkles. 
Then, each night, you sneak down and swap out the sweets for larger ones such as peppermint hard candies, then mini candy canes, and finally full-sized candy canes. 
You do this for a few nights and then watch your kids' excitement grow as each morning they see that the sweets are getting larger.
Of course, you just need to remember to be vigilant and supervise your little one to ensure they don't choke on the sweets.
Write an inspired letter to Santa
This is pretty old school and not something that you see that often. However, it's such a good idea. Why not get your kids to draft a letter to Santa which is a really good way for them to practice their writing skills. It will also give you an indication of what could possibly go under the Christmas tree ;)
Make Reindeer Food
Of course, you're not going to use real reindeer food, here. Just to be clear. We're talking about leaving out milk and cookies so Santa won't get hungry. Your kids can also ensure that Dasher and the rest of the hard working reindeers.  
Craft your own Christmas Carol
Singing Christmas Carols is an absolutely must at Christmas. Not only is it really enjoyable, but it gets the whole family involved. You could add a twist, though. Why not try making up your own Christmas Carol for you guys to sing together.
Also, if you like what you put together, why not record a video of everyone singing and then share it with family and friends.
Santa Footsteps
I'm not too sure you did this, but many kids try to stay up late in the hopes of getting a quick glimpse of Santa?
To help Santa find his way, you could always make his tracks clearer by sprinkling baking soda around a boot to create an outline that looks like snow. 
Then simply sprinkle a path from the fireplace to the tree so your kids can see how busy someone was last night. Now, don't worry too much about the baking soda. It actually vacuums up pretty well. 
Build a Runway for Santa
To ensure Santa doesn't miss your house out, you could alway create a custom runaway for the sleigh. 
You could do this by placing small paper filled bags that are filled with battery operated tea lights. You could either do this or you could string some Christmas lights surrounded by coloured ice orbs.
Have an extra special movie night
Now who doesn't want an extra movie night? As the nights draw in and it starts getting cold, then have an extra night or two of classic Christmas movies with the family. The only rule is, you can't wear normal day clothes. This is a cozy pajama wearing evening where everyone can just chill out. This is probably one of the few evenings in the year where the whole family can sit down, enjoy some good movies and enjoy each other's company.
Classics like, How the Grinch Stole Christmas or The Polar Express can really get you guys started.