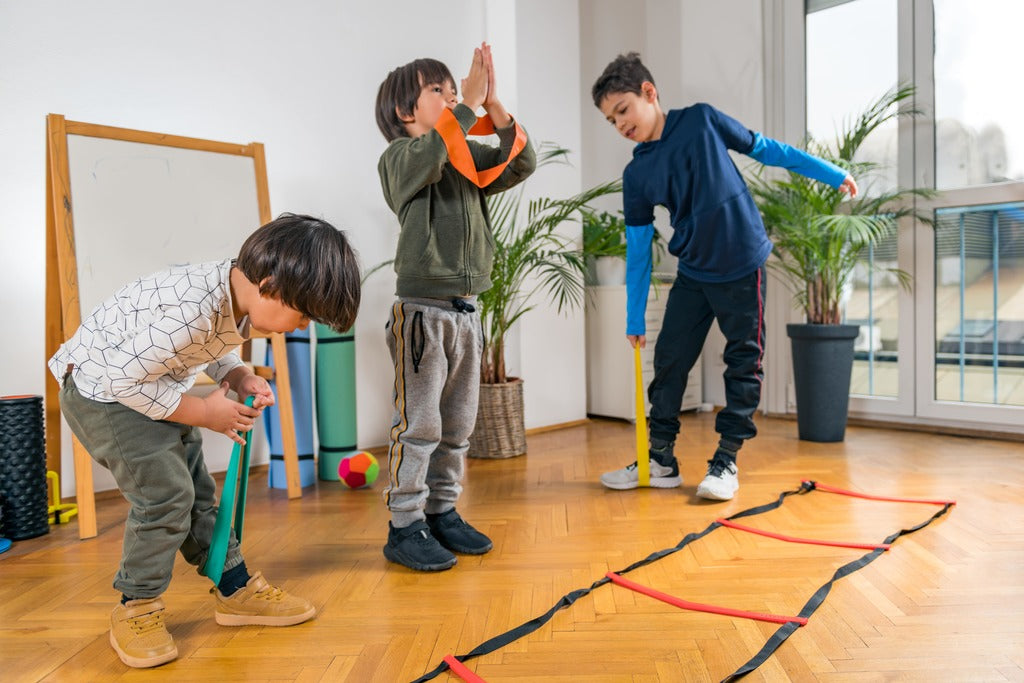 6 Fun Ways To Exercise At Home With The Kids
As I'm writing this article, we are all on lockdown and confined to our homes. However, the tips I'm about to share with you can be applied at any time really.
Even when the lockdown is lifted, I think it could be both fun and healthy to continue doing the things we've become accustomed to.
The first tip is probably cheating a bit, but listening through the grapevine I can see that it's super popular with parents all around the country.
Join In PE With Joe Wicks
If you fancy a bit of fun in the morning that involves some good ole fashion exercise, then check out Joe Wicks' Youtube channel for a free home workout.
The great thing about this channel is that it's based solely on getting kids active (our tagline btw) and is suitable for kids of all ages. Of course, as an adult, if it's something you want to get involved with, I'm sure it won't hurt and your kids won't mind if you had a go too!
Live stream free Kids' fitness classes
Now, staying on the Livestream tip, you can search for a whole variety of Youtube channels who are live streaming at the moment. From Olympic athletes to local gym instructors. I do know that the Strictly champion and guest judge Oti Mabuse is offering a live stream at the moment at 11.30am. -
Play Sports & Games Activities In The Garden
Now, this only really works if you either have a garden or vast open space near your home. If you, there are so many sports and games activities you can do with the kids where you can have a ton of fun with the family.
Such as:
* Water Balloon Dodgeball
* Ultimate Frisbee
* Kids bowls
* Blanket Run
* Badminton
* Swingball
* Volleyball
Create an indoor obstacle course
Probably one of the simplest ways to exercise out of everything I have listed is creating your own outdoor obstacle course.
Here are a few ideas:
* Crawl under or over a row of chairs
* Crawl under a string stretched between two chair legs
* Jump into and out of a Hula-Hoop five times
* Walk on a balance board
* Do a handstand
* Skip in place while reciting a jump rope rhyme
* Do ten jumping jacks
Go For A Walk Or Run Around Your Neighbourhood
I know this doesn't exactly qualify as doing exercise at home. However, this is a great form of exercise that can be done as a family and it also means you get out into the fresh air. In fact, swift walking is said to be one of the best exercises you can do.
The benefits are:
* Allows you to lower your blood pressure
* Maintains a healthy heart
* Boosts your immunity against disease
* Exercise can boost your memory (especially for kids)
* Curbs the hunger bug
Hold relay races with an animal-themed twist
Relay races are fun at the best of times. Why not try getting your kids to impersonate their favourite animal during this game instead?

The kids form two lines (but, there must be equal numbers on each team).


The first player of each team chooses an animal they want to impersonate, then the second person a different animal and so on if there are more team members.

On the word "go" each team member needs to impersonate their favourite animal by either crawling, hopping, and running to the end of the garden and back.

Each player that returns changes which animal they will be and the next player adopts the animal impersonation of the person that just returned Ideas for animals could be kangaroos, bunnies, dogs, cats, etc.