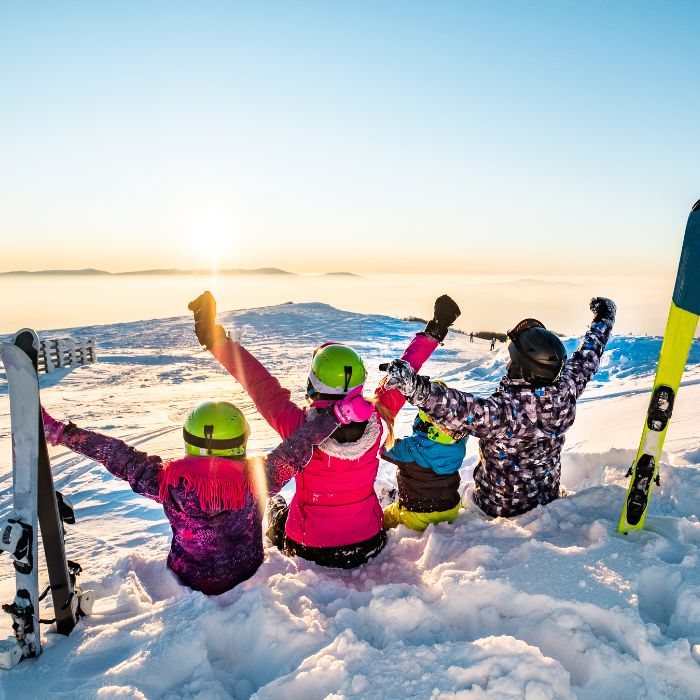 Skiing Holiday With The Kids - What You Need to Know
Are you planning to take your kids on a skiing holiday this season? Whether it's the first or tenth time doing so, taking children along can require some forethought and extra preparation - where do you even begin?!
With all holidays, there can be things parents need to consider and decisions to make in order to ensure an enjoyable and safe ski trip. 
In this article, we will take you through everything you need to know to plan a successful skiing holiday with your kids, from selecting suitable clothing and equipment to finding the best resorts and accommodations for your little ones.
Before you know it, you'll all be hitting the slopes in style!
What is the Best Age for Kids to Start Skiing?
Many of us tend to assume that skiing is something that other people do; you know, they grew up going once a year with their parents, and now it's just a natural part of their family holidaying tradition.
That isn't strictly the case, though; every year, new faces hit the slopes, having been tempted by the adventure and exhilaration that comes with skiing - this includes families with kids who have perhaps never even seen snow before...
The answer as to when it is suitable for children to learn to ski is not so straightforward; however - it all depends on the individual child.
Some will be ready as young as 3 or 4 years old, while others may take a few more years before they want to brave it. 
It is important to bear in mind that older children may already have had some ski experience and, if they have not done so before, it is always best to start off slowly and gradually increase their difficulty level as they become more confident.
The best age to start skiing also differs greatly depending on the individual child's level of coordination and comfort with winter sports. Still, generally speaking, the recommended age is between 5 and 8 years old.
Where to Go Skiing With Your Kids?
If this is the first time for both parents and children, finding the right "format" can be a bit of a challenge.
You may be lucky enough to live in a place where snow (and enough of it to be able to ski) is a regular occurrence, but it's unlikely that most of us will have the luxury of an indoor ski slope close by.
Travelling abroad can come with its own set of logistical considerations, so the first step is to decide how far you are willing to travel.
Once this has been decided, it must then be considered what kind of resort would best suit your family; do you want a large, well-equipped ski centre with lots of activities and entertainment or a more traditional alpine village?
Finding The Best Ski Resort For You & Your Family
In general, the resorts that are best suited for skiing with children will have easy access to ski lifts and chalets at the bottom of the slopes, as well as a range of activities suitable for different age groups - these are usually well-equipped to provide families with all kinds of services, from ski classes for kids to sledging and snowmen-building.
In addition to the facilities available, you should also consider the terrain; if your kids are just starting out, look for a resort with plenty of "beginner" slopes and runs that are not too steep or long.
There is no shortage of family-friendly ski destinations out there, so take some time to research what is on offer before you make your decision.
Some of the most popular family ski resorts include Courchevel in France, Saalbach-Hinterglemm in Austria, and Laax in Switzerland.
What You Should Be Packing In Their Suitcase
Packing for a week on the slopes can feel like a mammoth task, particularly if you are taking little ones, as they will need extra layers to keep them warm.
Skiing-holiday makers tend to fall into one of two camps: Flying or driving; both have their own merits, however, if you are travelling with kids, the latter is often preferable.
If you are driving to your ski resort, then make sure to pack extra items such as duvets, pillows and blankets in order to avoid having to buy them from resorts at inflated prices.
It is best to opt for snow-specific clothing that can be layered up when necessary; this includes a good pair of snow pants and jacket, a waterproof coat and boots with the proper grip on the soles.
As for accessories, the usual items apply; a hat, gloves and a scarf are essential. A good pair of sunglasses (yep - even in winter... that snow can really blind you) or snow goggles will protect their eyes from UV rays and windburn, and make sure that they wear a helmet if they are going anywhere near the slopes.
The Right Gear – Renting Skis, Boots and Helmet?
Again, depending on which mode of transport you choose, it can be beneficial to rent skiing equipment from the resort you are staying at rather than buying it outright.
This is especially true for growing children, as their sizes and skill levels may change quickly.
Renting skis, poles and boots will also give them the opportunity to try different brands and sizes before anyone commits to purchasing them.
Also, make sure that you always, always, ALWAYS rent a helmet when skiing with kids; not only are helmets compulsory in some resorts, but it's also crucial for safety reasons as well.
Should I Enroll My Kids in Lessons?
Enrolling your child in skiing lessons at your chosen resort is a great way to ensure that they learn the necessary skills and techniques in a safe environment, especially if the parent(s) are not experienced skiers.
In addition to the knowledge and discipline that they will learn, it is also an excellent way for them to make friends with other children on the slopes - skiing can be quite a solitary sport, so having someone to ski or snowboard with is often more enjoyable than going solo.
Lessons are usually catered for different age groups, so make sure to look into which ones best suit your child's needs.
Before enrolling your child in lessons, make sure that you are aware of your resort's safety policy; this includes the use of skis and helmets, as well as any other relevant protocols.
Tips and Tricks for Skiing with Kids
Lastly, we have gathered a few extra bits and bobs that will help to make sure you make the most out of your skiing holiday with kids:
Stomp around in the ski boots

- Let the kids practice walking in the ski boots for a little while; let's face it, even the adults can, at times, find this difficult to master. Find a relatively flat surface where they can shuffle around - they'll get it in no time...

Take regular breaks

- Little ones get tired quickly, so it is essential that you take frequent breaks throughout the day. This will give them the opportunity to rest and recover before getting back out on the slopes again.

Teach them to fall over

- Falling is an inevitable part of skiing, so make sure to teach them how to do it

safely

. Not only will this help to reduce any potential injuries but also instills in them a sense of control and confidence for future skiing trips.

Pack snacks and drinks for their breaks

- Kids tend to get hungry quickly, so saving time by having a few healthy snacks handy is always a good idea.

Teach them the ski SOS signs

– Kids must learn how to alert other skiers if they are in trouble, so practice these hand signals with them.

Don't over-schedule

– Kids need downtime as much as adults do, so make sure to take a few breaks throughout the day and allow some time for rest.
In Summary
Some final takeaway points to keep in mind are that children under the age of five generally have a shorter attention span and they get tired quickly.
It is important to find a resort that meets the needs of your entire family so that everyone can enjoy their vacation.
Don't forget to pack all the essential gear for your little ones, including renting skis, boots, and helmets if necessary.
Finally, think carefully about enrolling your kids in ski lessons so they can learn how to safely enjoy this winter activity.
If you are considering taking your children skiing for the first time, this guide should give you a good idea of what to expect and how to prepare.
Skiing can be a fantastic family pastime, but it's important to do your homework before heading to the slopes: Choosing the right resort, packing the proper gear, and enrolling in lessons (if necessary) are all critical factors in having a successful trip.
Have you taken your kids skiing before? What tips would you add?
Let us know in the comments!