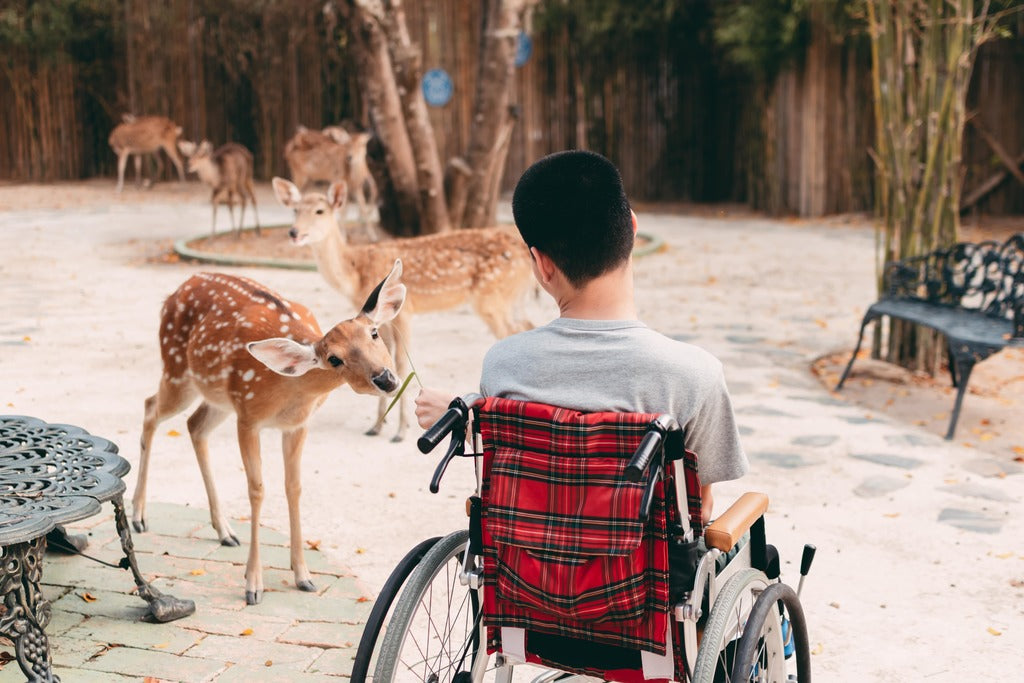 10 Places Parents Need to Take Their Kids To See The Coolest Animals
Animal encounters offer children the opportunity to learn in a hands-on environment.
Here's our guide on how to find animals near your home.
Farrowby Farm
If you have an hour or so free, Farrowby Farm in North Yorkshire is a great destination for animals near me with plenty of animals to see. 
From Aardvarks to Zebras, they've got it all at this beautiful farm. There are actually three play areas available.
One of them can be used for older kids and the second one is for children aged between four and eight. 
The third one is actually located in the tea room and is a great way to keep the little ones occupied while you enjoy some peace and quiet.
The animals at Farrowby Farm also include cows, chickens, sheep, geese, and goats. 
There is also a tractor ride that will take you around the farm to see some of the animals which your kids will absolutely love.
Lastly, there is a Vintage Barn selling lots of furniture and also farm produce.
Related: Engaging Farm Activities for Preschoolers & Toddlers
Stockwood Discovery Centre 
If you're looking for a great place to see animals, then you should check out Stockwood Discovery Centre.
Stockwood Discovery Centre is a place where animals and nature are all under one roof which can be found in Luton, Beds. 
The animals on the farm include cows, chickens, sheep, geese and goats. 
Apart from these animals they also have some other animals including alpacas; ponies; pheasant; peacocks; llamas and more.
It's open every day of the year from Monday through Sunday at 11 am-11 pm.  There are also lots of animals on the show so kids will absolutely love this place.
If you're looking for a place to stop in and have lunch or grab some food, the Garden Café is the perfect way to end your day at this fantastic destination.
 Church Farm Ardeley
Another great little farm is Church Farm Ardeley, which is in the Luton area of Bedfordshire. This farm has animals for kids to see including cows; sheep and goats.
There are some other animals on this farm as well such as: alpacas; ponies; pheasant, peacocks, llamas and even reindeer!
Home Farm (Within Wimpole Hall)
Home Farm is a great place to introduce your children to a wide range of rare breed animals, goats, cattle, sheep, pigs and horses and learn more about them and how they are looked after. 
Kids can do everything from herding donkeys to milking cows at this farm. 
Beyond the paddocks, at the Farm there is an adventure playground with climbing frames, balance beams and swings.
Ventura Wildlife Zoological Gardens 
In the Ventura Wildlife Zoological Gardens, exotic animals can be found in the trees and ground within the 2 acres of beautifully kept grounds.
The zoo is split in two, Adventure Island and the Africa section which contains ring-tailed lemurs, red fronted lemurs, fossa, Burmese python, lorikeets and tropical wader birds in the UK's only Cuban hutia enclosure.
There are a variety of animals that visitors can see at Sidly's Wildlands. 
Animals include reindeer, emu, red-necked wallabies, parma wallabies, grant's zebra llama and alpaca.
Daily activities offered for guests at the zoo include interactive animal encounters, animal talks, and animal feeds. 
Guests are also able to see Sidly the Skunk within the zoo during school holidays and on weekends. 
Adults prices for admission are £6.50, children aged 3 and under go free, and there are specials depending on the time of year or after-school hours.
Woodside Animal Farm
Woodside Animal Farm is the perfect destination if you want an up close and personal experience with farm animals. 
Feed them, pet them, or even cuddle them during their "Cuddly Encounters". 
As well as an assortment of animals, this park offers tractor and trailer rides around the farm, animal demonstrations, trampolines and a mini-funfair.
If you happen to visit the farm on a rainy day, don't worry. The farm has a really cool soft play centre with slides and more. 
The farm also has a café on-site serving breakfast, lunch and cakes which are made fresh in their bakery every day.
Oughtonhead Common
One of the best walking places in Hitchin is Oughtonhead Common. It has a wide variety of animals including water shrews and English Longhorn cattle, which are perfect for little explorers.
The River Oughton runs alongside the common so remember to take a net with you for your children, they'll love exploring at the edge of the water! If your walk has tired them out then why not stop for an ice cream sundae at Garden Gate Café?
Opening hours vary so it is best to call 07969 621 223 in advance before you plan a trip!
Maidenhead Aquatics 
This one is a bit of a curveball so bear with me but Maidenhead Aquatics in St. Albans may be the perfect trip with the kids!
The fish room is one of the largest and holds an 8,000-litre reef display aquarium making it feel like visiting a tourist aquarium.
Children enjoy seeing all the fish and learning their names, they can feed koi carp for a small fee, and there's a FREE children's soft play area located inside the café.
Aldenham Country Park
Aldenham Country Park has it all! You can visit Winnie the Pooh's 100 Acre Wood and the adventure playground for free.
You can explore a working farm complete with demonstrations on goat milking, egg gathering experiences, and more for £3 per person or £10 for up to 5.
You must pay an additional rate if your child wishes to ride the pony as well (£5). Parking is priced at either £4.50 for the day or online at £4 and lasts up to three hours.
Tring Natural History Museum
If you're interested in something different, Tring Natural History Museum is a place for you. 
The animals at this museum aren't alive, but they're well-preserved replicas of the actual animal in question.
Discover interesting and fascinating examples of animals from all over the world, including tiny beetles, enormous bears, antelope and zebras, colourful mandrills to elephants, crocodiles, rhinoceroses, or tigers.
Totally free for families!
Here's a List Of Other Places in The UK:
The National History Museum in London

Blackpool Zoo

Chester Zoo

Paignton Zoo Park

The Hancock Museum

West Midlands Safari Park

National Museum of Scotland

The Eden Project

Kew Gardens

Birmingham Zoo, UK

Warwickshire Wildlife Park and Nuneaton Zoological Gardens